I strongly advise readers to save an offline copy of this page on removable media (how to), as well as copies of these two [1, 2]. For a beginner's course on the globalists' true agenda, scroll down to An Introduction to What's Really Going On in Our World (or click here). And if you are reading the mobile version of this site, scroll down to the very bottom to read the sidebar (it's important).
TO SEE THE LATEST UPDATES, BE SURE TO REFRESH THIS PAGE AFTER LOADING IT OR CLEAR YOUR BROWSER DATA BEFORE YOU LOAD IT. ALSO CHECK MY BACKUP SITE, KENSTHOUGHTSTREAM.COM, DAILY (IN CASE THIS SITE GETS SABOTAGED AGAIN).
World War III (or Savior Event) Watch in Effect
The Kabbalists are aiming to bring in Prince Harry as the Fake Jewish Messiah between now and December 7. He may be accompanied by Donald Trump or Mike Pence, Space Force, and the Fake ETs.
Coming soon to a sky near you…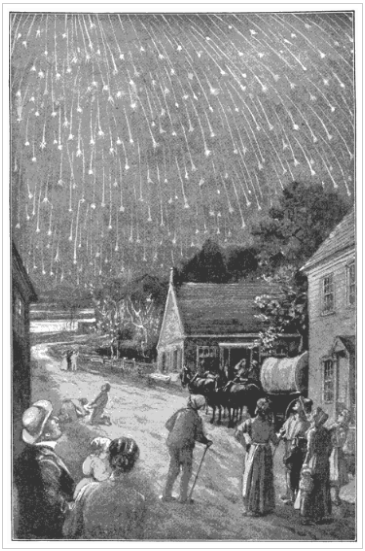 (Enhanced Note – 1 December 2023) – Onnabugeisha's notes on Saturday the 2nd are now up. She notes that this weekend is Yud Tes Kislev and Chof Kislev, the days celebrating the birth of Chabad Chassidism. And if they go forward with their plan, it will bring the labor pains of the birth of the Moshiach (Chabad's Fake Jewish Messiah). Here is the schedule of events (according to Jerusalem time or local time to each event; you may observe events on a different day depending on your time zone)…
Saturday 12/2 – Operation Blackjack, with Bona Dea's opening of the Gate to Hell during the night of Saturday-Sunday
Sunday 12/3 – Lights in the Sky / Fake Christian Rapture (Apollyon's Harvest)
Monday 12/4 – Three Days of Darkness Day 1
Tuesday 12/5 – Three Days of Darkness Day 2
Wednesday 12/6 – Three Days of Darkness Day 3 / the Rain of Fire stops at sunset
Thursday 12/7 – The Arrival / victorious Prince Harry + partner (opportunity 1 for Castor & Pollux's "Rainbow Rescue")
Friday 12/8 – End of Pope Francis Era, OR the Torment of Humanity continues to the 150th day from the opening of Gate to Hell on 12/3…
4/30/24 – Day 8 of Passover / victorious Prince Harry (or substitute*) + partner (opportunity 2)
*Remember that the "resurrected" Lubavitcher Rebbe is another Fake Jewish Messiah option.
Given some chatter I've monitored in the controlled alt-media, I recommend you read this article on how the globalists can fake "Nibiru" (a second "black" sun and planets): How the New World Order Agenda Drives the "Planet X / Nibiru" Myth.
(1 December 2023) – As it turns out, today has a Pearl Harbor connection too: its Chinese anniversary. Onnabugeisha points out that the Pearl Harbor attack happened on the Chinese lunar day of 10th Month 19, and today is 10th Month 19. And Joe Biden is "missing in action"; the White House released no schedule for him today.
It should also be noted that today is the 55th day since the Israel-Hamas War began. And in "biblical numerology," the number 55 is related to the reign of the evil King Manasseh of Judah. So watch for the rise or fall of an "evil" leader today.
~ MORE ~
The scripted event that we're waiting for now is the "Israeli Outrage": a real or false-flagged "Israeli" attack on the Palestinians that will be so stunning that it will compel an immediate and massive Muslim response. A huge, Port of Beirut-style explosion is a leading candidate for this event, as is a reported use of chemical weapons.