[Update – 18 December 2017] – The globalists did not go through with their 2016 plans, and the script changed for 2017 and beyond. It is now clear that Vladimir Putin will play the role of "Moshiach ben David" and Trump will play the role of "Moshiach ben Yosef."
Here is a rather telling photoshop I found online…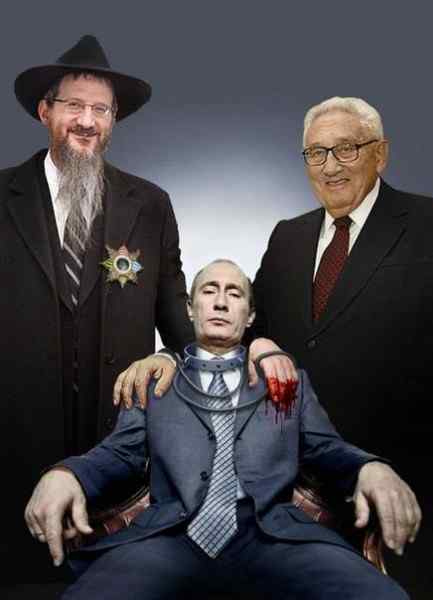 …The man on the left is Berel Lazar, Putin's Chabad-Lubavitch handler…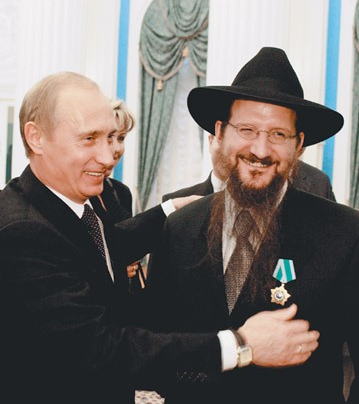 …And the man on the right is another International Jew, Henry Kissinger, Putin's friend and mentor…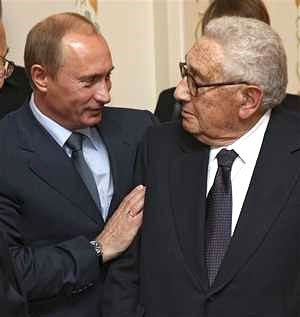 …The man in the middle of the top photo is, of course, Vladimir Putin sitting on his "Moshiach ben Yosef" throne. Chabad-Lubavitch, you see, is a Jewish cult obsessed with bringing about the "Messianic Era" through their own efforts. But don't take my word for it…
As I was looking into Chabad-Lubavitch for the final section of the Putin entry, I discovered that they put the globalist End Times Script right there on their website. From my initial scanning of it, it looks like Putin will play the role of "Moshiach ben Yosef"…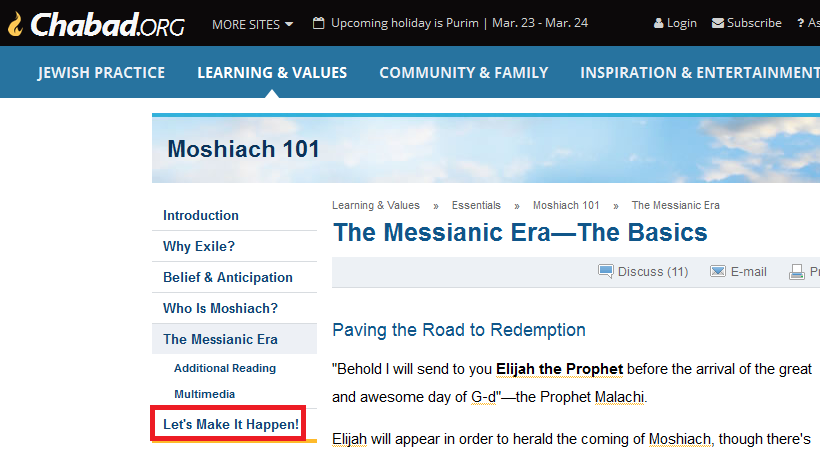 …From Chabad.org. Here is a preview…
"The prophet Ezekiel describes a climactic war, the Battle of Gog and Magog, that will occur prior to the arrival of the Moshiach. This topic is shrouded in mystery: we are uncertain as to the identity of Gog and Magog, whether Gog and Magog are the names of nations or individuals, whether this battle will be a physical or spiritual battle, and even whether it has already occurred or not.

According to tradition, the central personality in this war is Moshiach ben Yosef—Moshiach of the tribe of Joseph, who will be killed in this battle."
I encourage you to read the article and follow its links. Then you can read Globalist Prophecy Watch: Update 4 – How 2016's Gog/Magog War will unfold to see how this messianic script is being played out in the real world.
If you are unfamiliar with Chabad, here is a brief description…
"Chabad, also known as Lubavitch, Habad and Chabad-Lubavitch, is an Orthodox Jewish, Hasidic movement. Chabad is today one of the world's best known Hasidic movements and is well known for its outreach. It is the largest Hasidic group and Jewish religious organization in the world…

In 1951, Rabbi Menachem Mendel Schneerson became the seventh Rebbe of Chabad-Lubavitch, and he transformed it from a small chasidic movement into the largest and most widespread Jewish movement in the world today. He established a network of more than 3,600 institutions that provide religious, social and humanitarian needs in over 1,000 cities, spanning 80 countries and 49 of the 50 American states. Chabad institutions provide outreach to unaffiliated Jews and humanitarian aid, as well as religious, cultural and educational activities at Chabad-run community centers, synagogues, schools, camps, and soup kitchens." – From Wikipedia
To establish a network of over 3,600 institutions in 80 countries requires a lot of money, and Chabad gets it from the elite Cabalist Jews. It is through Chabad that the Cabalists are attempting to define Judaism for ordinary Jews and End Times prophecies for the rest of us. And with Cabalist money in one hand and the Cabalist agenda in the other, the late Rabbi Schneerson fostered the Jewish messianic obsession…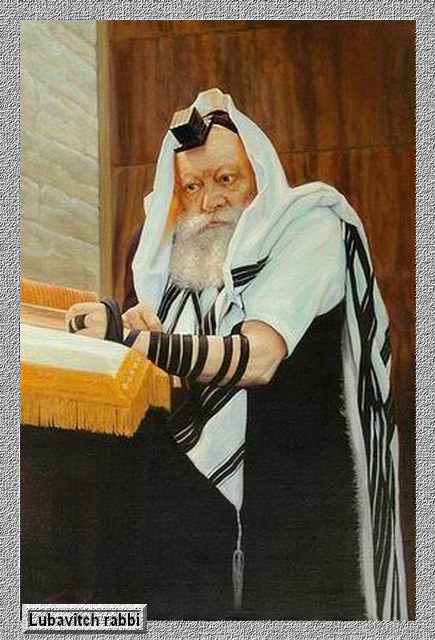 "Menachem Mendel Schneerson (April 5, 1902 OS – June 12, 1994), known to many as the Rebbe, was a Russian Empire-born American Orthodox Jewish rabbi, and the last Lubavitcher Rebbe. He is considered one of the most influential Jewish leaders of the 20th century…

Schneerson was criticized for his passion and desire to raise awareness of the coming of the Messiah. Detractors criticized a children's song with the words 'We want moshiach (the messiah) now / We don't want to wait,' that Schneerson commended." [1]

"Chabad messianism, or Lubavitch messianism, generally refers to the passion among adherents of the Chabad movement regarding the coming of the Messiah and their goal to raise awareness that his arrival is imminent." [2]
And it is at this point that Berel Lazar, the Chief Rabbi of Russia and the close associate of Vladimir Putin, comes in. I found this juicy little tidbit in his Wikipedia bio…
"A native of Milan, Italy, Rabbi Lazar was born in 1964 to parents who were among the first emissaries of Rabbi Menachem Mendel Schneerson."
So Lazar's family was close to Schneerson, and that led to this…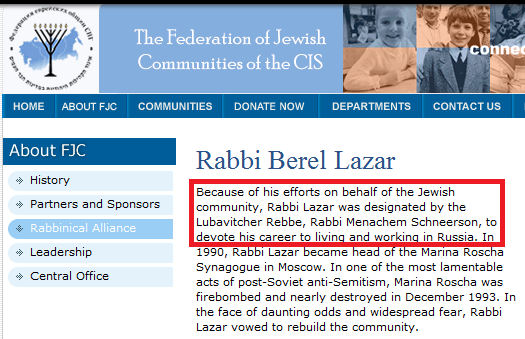 …From The Internet Archive
So Berel Lazar…
> was personally assigned to Russia by the Russian-born, Messianically-obsessed Rabbi Schneerson,
> came to Russia in the same year, 1990, that Putin returned to Russia and began his lightning-fast ascent to power, and
> was funded by the same Jewish oligarchs that helped Putin rise to the Russian Presidency…
"In 1992 Lazar became acquainted with Israeli diamantaire Lev Leviev, who introduced him to Russian businessmen Boris Berezovsky and Roman Abramovich. The latter became the major benefactor of the synagogue in Maryina Roshcha." – From Wikipedia
All this raises an interesting question…
Was Berel Lazar sent to Russia to personally oversee the rise of the Mashiach?…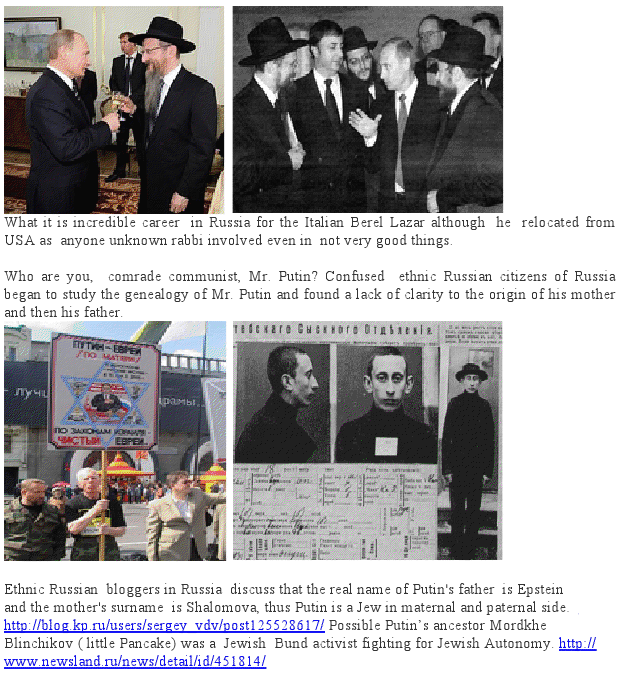 …From HenryMakow.com
Before you answer this question, read this: Globalist Prophecy Watch: Update 3 – Is Vladimir Putin the Jewish Messiah?
It's also important to note that when Putin came to power, he brought Chabad-Lubavitch into power with him. Together with the Cabalist oligarchs, they pushed aside the existing Jewish community so Chabad could reign supreme in Russia. Here is an account of how that happened from The Piratization of Russia: Russian Reform Goes Awry, by Marshall L. Goldman…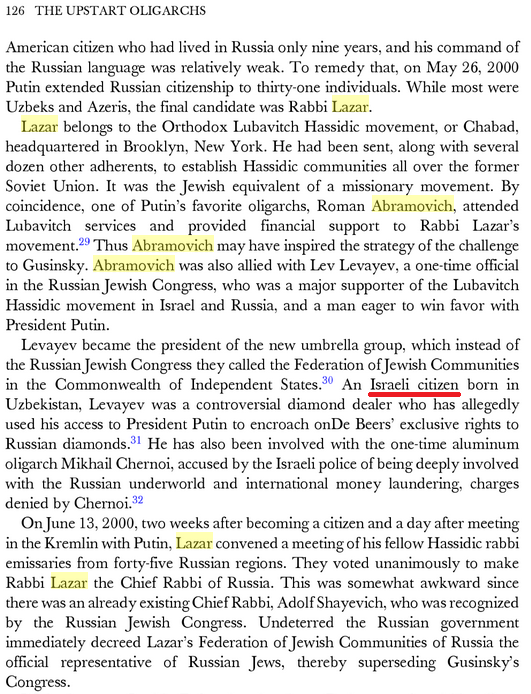 Fortunately, the curious relationship between Putin and Lazar has not escaped the attention of ordinary Jews…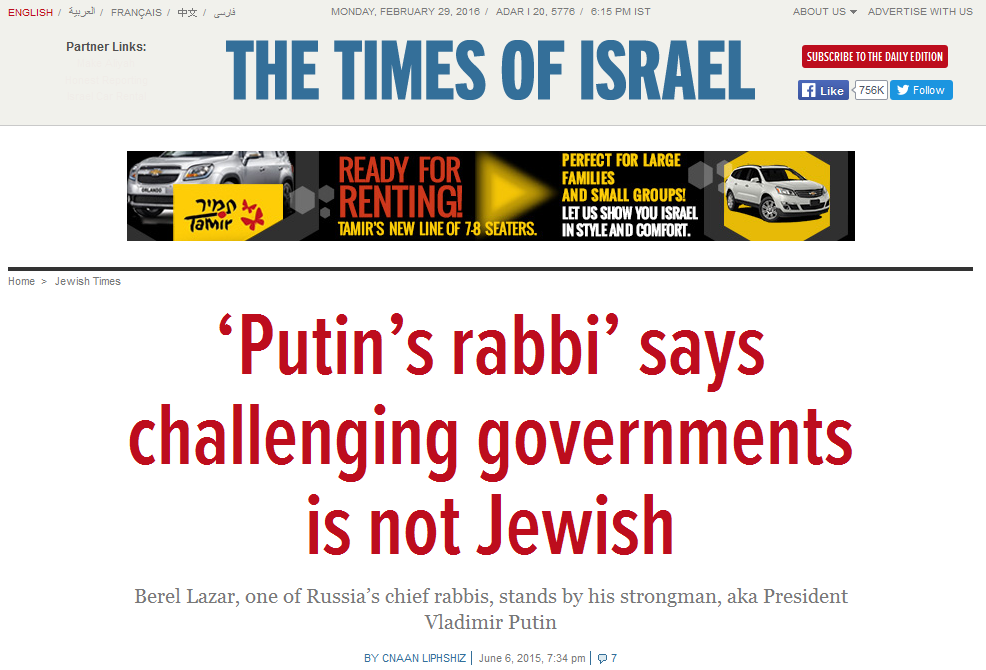 …From The Times of Israel. Here is an excerpt…
>>> Lazar's work, his Russia boosterism and his ties to the Kremlin — he is sometimes called "Putin's rabbi" — has helped Chabad's Russian branch eclipse all the Jewish groups vying to reshape the country's community of 250,000 Jews. Now Lazar heads a vast network that comprises dozens of employees and plentiful volunteers working in hundreds of Jewish institutions: schools, synagogues, community centers and kosher shops…

Today, Lazar said, Russia has in Vladimir Putin its "most pro-Jewish leader," whom he credits with "fighting anti-Semitism more vigorously than any Russian leader before him."…

Lazar was Chabad's chief envoy to Russia before staking claim to the title of chief rabbi in 2000. That's when he quit the Russian Jewish Congress, an umbrella group, after the organization's founder, Vladimir Gusinsky, and Russia's other chief rabbi, Adolf Shayevich, criticized Russia's war in Chechnya and its alleged human rights abuses — including the alleged targeting, by anti-corruption authorities, of political dissidents.

"Challenging the government is not the Jewish way, and [Gusinsky] put the Jewish community in harm's way," said Lazar, noting that the chief rabbi should be apolitical, not a government critic. "I wanted to have nothing to do with this." <<<
Ordinary Jews would be well advised to do what they can to blow the whistle on the Cabalist elite's plan to fulfill the messianic prophecies. Why? Because under the plan, ordinary Jews will be slaughtered when Putin turns the UN against Israel in 2025, leaving it "desolate." It is necessary for you to die in order for the world to think Jewish power has been broken, but the Cabalist elite will remain of course. You'll get a preview of what's coming this year, when Gog/Magog leads you to the precipice of destruction and Putin temporarily saves you. So if you are a normal Israeli Jew, you have just a little over 7 years to live. I'd use it wisely.
Much love…