Keep a close eye on the Syrian offensive in Aleppo…



…From The Washington Post. Here is an excerpt…
"Airstrikes pounded rebel-held areas in the embattled Syrian city of Aleppo on Friday… in a sharp escalation by government forces after the collapse of cease-fire plans that raised fleeting hopes of peace…

The intensifying offensive on Aleppo — a critical foothold for rebel groups — came amid signals of an all-out push by President Bashar al-Assad to reclaim full control over the northern city…"
Once Aleppo falls (which should happen right soon), the remaining "ISIS" forces will retreat north to Dabiq, which is only an hour's drive or a day's march away…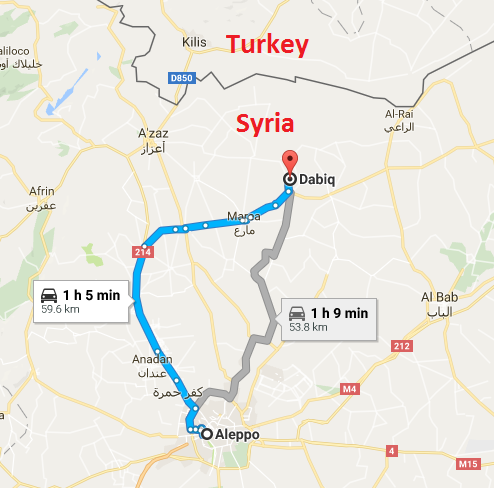 …and Syrian pursuit forces will follow them there.
Turkey, in turn, will publicly proclaim the "terrorist" influx into Dabiq as a great opportunity to supposedly defeat ISIS, so their forces will push south. They already tried to do this only a week ago…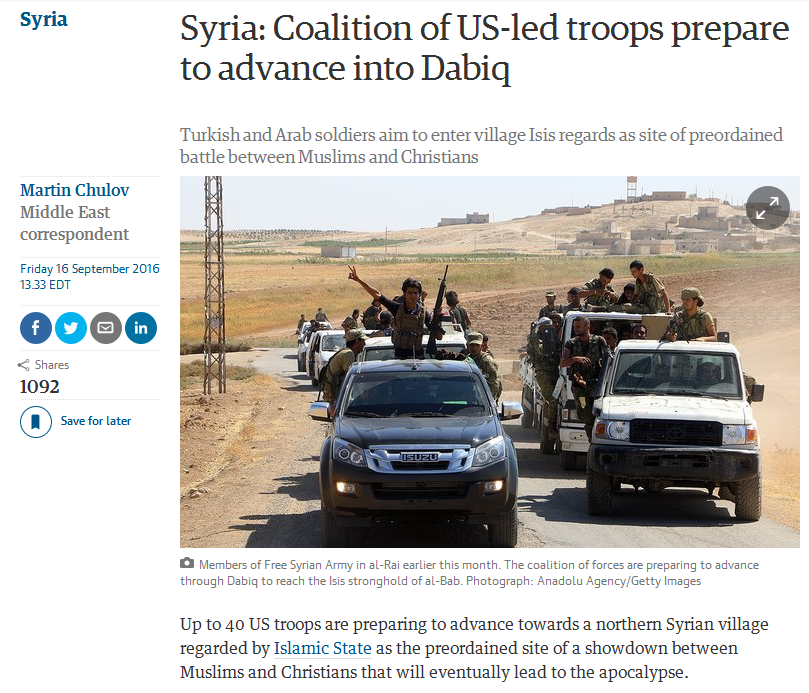 …From The Guardian. So we know they have the inclination to go there. Seeing Syrian forces approaching the town will give US/Turkish forces the motivation to race them there. And this will result in US/Turkish forces and Russian/Syrian forces meeting head-to-head in the vicinity of Dabiq. Do you think the two sides will shake hands when that happens?
Should the fall of Aleppo happen during Obama's Weekend, it would provide a perfect setup for Global 9/11 and the US government shutdown / Obama takeover that would follow a week later (Congress did not pass the continuing resolution this week). To understand what I mean by this, see the previous entry (especially the P.S.s which start about midway through). It contains critical information on this whole scenario.
(P.S. – 24 September 2016) – I ran across a notable piece of information in various press reports…
"A pro-government Iraqi militia commander in Aleppo said the aim was to capture all of Aleppo within a week." – From abc.net.au
This would bring the "apocalyptic battle" in Dabiq within reach by next weekend, which is the same time the US government could be shutting down. It would also allow the "prophetic" climax point to be reachable before the end of the Hebrew year at sunset, October 2. Of course, it isn't absolutely necessary that the globalists get it done before 5777; they can always say that "God delayed the revelation of the messiah."
If I have time tomorrow, I'll produce an updated version of Your Guide to the Operational Launch of the NWO in 2016 to account for the globalists' current trajectory. Either I was incorrect about how they'd get to this point or they bypassed their previous plans to do what they're doing now. The 2016 end result offered at the top of that entry remains valid, though.
++++++++++++++++++++++++++++++++
++++++++++++++++++++++++++++++++
++++++++++New Material++++++++++
++++++++++++++++++++++++++++++++
++++++++++++++++++++++++++++++++
(P.S. – 25 September 2016) – In the closing sentences of his latest globalist disinformation piece, Paul Craig Roberts makes reference to the supposedly pro-Western elements of the Kremlin, who are supposedly led by Dmitry Medvedev…
"The only common grounds Russia has with Washington requires Russia's surrender. If Russia will surrender, Russia can achieve Western acceptance, and Washington's agents, the Russian Atlanticist Integrationists, can rule Russia for Washington."
…This tells me that the planned fake assassination of Vladimir Putin is still on, and it could happen any time after US/Turkish forces directly engage Russian/Syrian forces. If the globalist prophecy scriptwriters are still aiming to beat the end of the Hebrew year, the last candidate date for Putin's fake death will be in four days on September 29, with his faked resurrection occurring three days later on Sunday, October 2. Should such a "resurrection" occur, you'll also see a fake UFO show to go along with it.
Why would the globalists even attempt such a thing, you ask? Because they have to stage something "miraculous" to convince people that Putin is more than just a man, and throwing in an "ET" kicker will blow people's minds so much that they'll be open to suggestion.
So here is the apparent order of battle in the currently unfolding Apocalypse Show…
> On the Dark side, we have the Crypto-Islamist Christian Antichrist, Barack Obama,
aiding the Al-Masih ad-Dajjal, Recep Tayyip Erdogan, in attacking the Light side.
> On the Light side, we have the Crypto-Jewish Mashiach / Isa, Vladimir Putin,
aiding the Imam Mahdi, Bashar al-Assad, in defeating the Dark side.
Look for the Resurrection/UFO Show at the moment things look their darkest.
Note: I first wrote about the plan for Putin's assassination in January…
Does the globalist End Times script call for a Russian Judas to betray the Mashiach/Christ?…

…Will Dmitry Medvedev cut a secret deal with the West and "assassinate" Vladimir Putin after full-on war breaks out this September? Will Putin then "rise from the dead" 3 days later at the Mount of Olives? Current prophetic propaganda suggests this is the plan.
…so you can read more about it in Globalist Prophecy Watch: Update 4 – How 2016's Gog/Magog War will unfold. Some of the Gog/Magog details it covers have changed since then, but you'll find it still offers good background information on what is taking place.