When the New World Order finally comes into full public view, it will look attractive and inviting…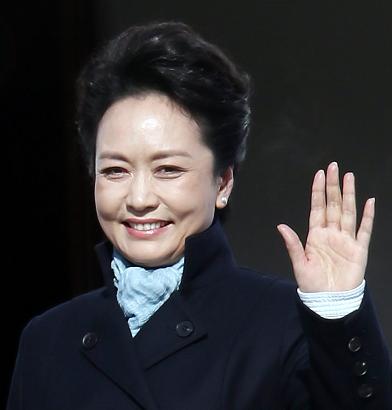 …not ugly and scary…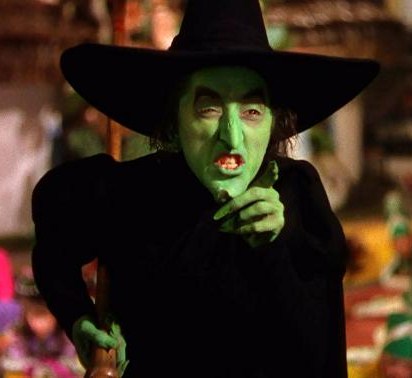 Yesterday, a reader wrote me the following…
"I am optimistic that things aren't as bad as they seem, because enough people are able to find their way out of the infantile drama you have portrayed, and the illuminati are simply tripping up as they flounder and we show their flailings about. We actually have a choice down the middle, and that is to clean up the corruption in the international financial system and take back our world. We will not have a one world currency. We will abolish legal tender laws, and use the world's gold on deposit in the trust called the Global Debt Facility to replace paper currencies in each country with national currencies in aurum, putting the central banks into bankruptcy in the process.
Most of the shills you have portrayed in your blog have been trying to keep this from happening, but thanks to a very accurate power transition model from the Department of Defense, we know there is a 95% chance that the people in each country will be able to clean up their corrupt politicians who will be powerless to prevent the clean-up."
I don't know if the reader realized it or not, but what she wrote is actually a description of the New World Order. So upon reading it, I realized the need to explain what the NWO will look like when it's unveiled, and to emphasize a critical point:
The globalists are in the process of running a problem / reaction / SOLUTION scam on us, not a problem / reaction / PROBLEM scam.
This means that when we reach the end result of this transition process, the NWO will look like the SOLUTION to all our problems, not another PROBLEM (such as a dark, scary fascist regime) we need to overcome. It will appear as though the corrupt have been defeated, World War 3 has been stopped, all regional conflicts have been resolved, biowarfare against the population has been halted, poverty has been alleviated, debt money has been abolished, secrets have been revealed, and so on and so forth. And the masses, after having been force-fed negativity and conditioned to expect a scary NWO for so long, are expected to be so overcome with joy that they'll willingly embrace the New Order.
That's how a problem / reaction / solution scam works when you're using it to create a New Order for the entire planet: 1) you intentionally create an overwhelming number of terrible problems, 2) you make sure the public is fully aware of all those problems (by carpet-bombing their consciousness with mainstream and alternative media coverage of all the ills in the world), then 3) you present them with the solution to all their problems (the NWO). In that final phase, you don't present them with something ugly and scary; you give them something attractive and inviting. And once they have accepted it and come to depend on it, you start tightening the screws again.
In light of this, let's have another look at the aforementioned reader's expectations, one-by-one…
> We'll "clean up the corruption in the international financial system." This statement presupposes that the international financial system started out as something good and became corrupted, and such a view has no basis in reality. The international financial system was purpose-built as a slavery system by the International Central Banking Cabal. It cannot be "cleaned up" or "reformed" into something good any more than a meat grinder can be reformed into a cow uterus.
The international financial system IS corruption; it is corruption incarnate. We must simply walk away from it and build our own system of trade, starting at the local level with our own neighbors, then networking peer-to-peer until there is a true (decentralized) global community. If we don't build our own financial system, we will use theirs by default, and then we'll be stuck in yet another of their growth and harvest slavery cycles.
> "We will not have a one world currency." Of course we won't. The NWO plan does not call for a one world currency — at least not at first. It calls for national currencies which will be backed by a supranational reserve currency currently known as the SDR. Over time, the SDR will be expanded into more and more areas that are currently the domain of the national currencies. This process is expounded upon by future IMF Director and current Governor of the People's Bank of China Zhou Xiaochuan in his speech titled "Reform the International Monetary System"…


As the SDR becomes more and more used as an alternative to national currencies, the globalists expect the people to embrace it on their own accord. The Economist explained this back in 1988 with an article titled Get ready for the phoenix…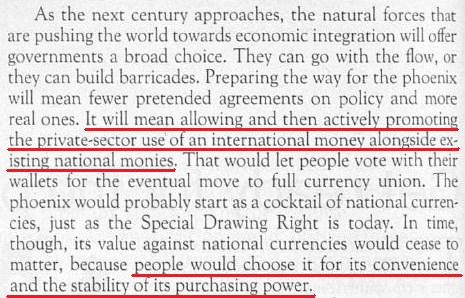 ….First off, "the natural forces that are pushing the world towards economic integration?" Ha! GMAFB. As for the rest of the passage, note how well it matches what China's Zhou Xiaochuan said. The globalists have been planning this for a long time, and the BRICS are the key to making it look like "it's different this time."
> "We will abolish legal tender laws, and use the world's gold on deposit in the trust called the Global Debt Facility to replace paper currencies in each country with national currencies in aurum, putting the central banks into bankruptcy in the process."
To begin, who owns the bulk of world's gold now? To answer this, you might ask yourself a few more questions: Who removed the gold backing from the world's currencies, especially the dollar? Who then turned around and printed unlimited paper money to buy up as much of the world's gold as they could get their hands on? Was it the "elite" or the people?
As for the central banks, they are mere paperwork constructs of the globalist bankster families, and they can be disposed of when they are no longer needed. As I explained in one of my old Event Watch updates (when speaking of Janet Yellen)…
>>> Later, she will be seen as making a mistake that causes the big implosion. In the aftermath, she and the Fed will be taken down and replaced by the Treasury in a "rejuvenated, Constitutionally-recentered Republic of the United States," possibly under Ron Paul [or Rand Paul].
One must not forget that the central banks themselves, just like the regular banks and corporations, are expendable fronts for those who hold power behind the scenes. And after 100 years of bribing, blackmailing, and killing, the elite families' Fed parasite has thoroughly subsumed the US Government host. They can now discard the Fed and operate directly from the completely captured federal government. <<<
The bottom line is this: regardless of how the new currencies are backed or who prints them, they are slave currencies. Because as long as a small "elite" get to decide how much currency will be circulated, who will receive it, and under what conditions it will be handed out, it remains a system of control. I think it better to devise our own local currencies / trading systems and leave the control freaks behind.
In closing, I'll share some passages I wrote in my second blog about what the globalists will try to do when they roll out the new system (as well as how they'll start clamping down on us afterwards). From Lightworkers, welcome to the Borg: Basel III and Total Financial Control…
>>> It is through channelings and reports from "white hat" intelligence sources that the Cabal is telegraphing the solution phase of the problem/reaction/solution scenario they're using to usher in their One World Financial System. And yesterday, the people behind the "Poof" information made an interesting admission about the "free money" that'll be spread around after the financial reset…
"THE FUNDS THAT WILL BE IN THE ACCOUNTS WILL BE BASIL III COMPLIANT, AND UNTOUCHABLE UNLESS YOU WANT TO BUY A CONTAINERS OF AK-47S AND START A WAR…THEN YOU CAN KISS THE MONEY GOODBYE – IN ESSENCE, IF THE MONEY IS NOT SPENT FOR THE RIGHT REASONS, THEN EXPECT SANCTIONS"
In this passage, they are clearly admitting that they will be monitoring how you spend your money, and your access to it will be blocked if they don't approve of what you're doing. Of course, they give a good reason why this must be so: because it is essential to stop "terrorism." But we all know by now that a terrorist is anyone who believes in freedom and opposes the rule of the few over the many. They always give a good public reason for increased control, don't they? <<<
One thing I might point out about this passage is that the Poof/Zap disinfo clowns specifically mention that everything will be Basel III-compliant, and the Basel III rules were drawn up by the Basel Committee on Banking Supervision, which is headquartered in the Bank for International Settlements (BIS). If you want to know a little about the BIS and how it fits in to all this, have a look at this entry.
Continuing on…
>>> I've long warned of the dangers of transitioning to an all-electronic currency (with no cash or coins) because it would place control of our money into the hands of whoever controls the computers, but a new thought crossed my mind this morning: what if they imbed RFID chips in the cash and coins? With that thought in mind, I googled "rfid coins" and "rfid currency notes" and found out they've already been doing it [and they're refining the technology all the time].
Now think about it for a moment…
> With most of your currency in electronic form at a Basel III-compliant bank (implemented to supposedly stop financial fraud), they can track and control it.
> With RFID chips embedded in your cash and coins (implemented to supposedly stop counterfeiting), it all becomes trackable and controllable.
> With RFID chips embedded in your consumer products (implemented to supposedly stop shoplifting), they all become trackable and controllable.
So this is how it will go down (if they are able to pull it off)…
> They will collapse the old system.
> They will launch the new system by handing out lots of money so people will gleefully accept it. (At this initial stage, they'll probably block financial access to very few people, such as those trying to buy weapons.)
> Once everyone is dependent on the new system, they will start blocking money from more and more people for more and more reasons until all who remain are locked into a very small box of "elite"-approved behavior.
How will they lock out dissidents, you ask? By using RFID readers at cash registers, intersections, roadblocks, cell towers, etc., as well as in smart meters, cell phones, wireless portals, etc., they will track the movement and destination of all currency and goods. And if you are designated a persona non grata, your digital and physical cash, as well as your consumer products, will be seized for whatever reason they choose to invent. You will be unable to buy, sell, or barter in the mainstream economy.
Make no mistake: the new financial system being sold to the undiscerning elements of the awake and aware community is not of the True Light. It is just the new, improved version of Cabal control covered with a candy coating. <<<
Having said all this, I reiterate once again: any global solution (regardless of how great it might look on the surface) is a globalist solution. Accept it at your own risk.
For my next update, I plan on writing about the lady whose picture is at the top of this entry, China's "First Lady" Peng Liyuan. She's a crafty one, and I suspect she'll be leading the charm offensive when they start openly promoting the NWO to the public.
Love always…