I just came across a prophecy propaganda video which suggests another prophetic scenario that may be the globalists' Plan B (either that or I was wrong about what Plan A was)…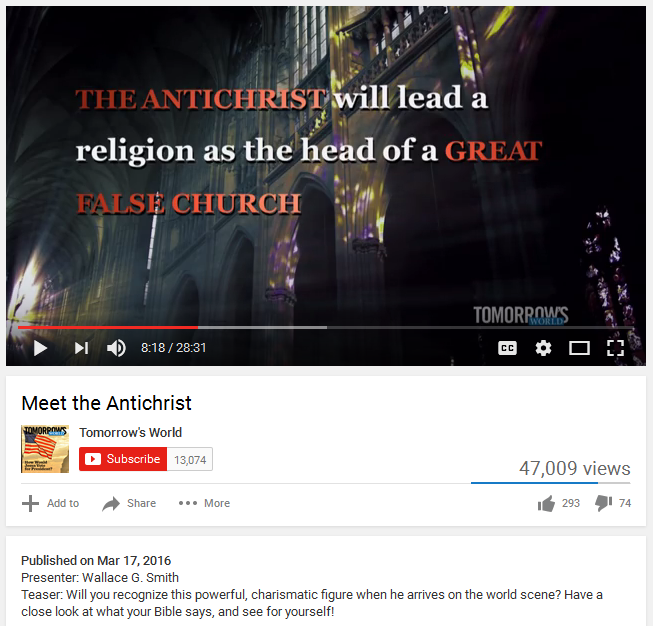 …From YouTube
This prophecy interpretation suggests that the UN may be the "Beast" from Revelation (the revived Roman Empire) and Pope Francis and his Roman Catholic Church may be the Antichrist/whore who is riding it…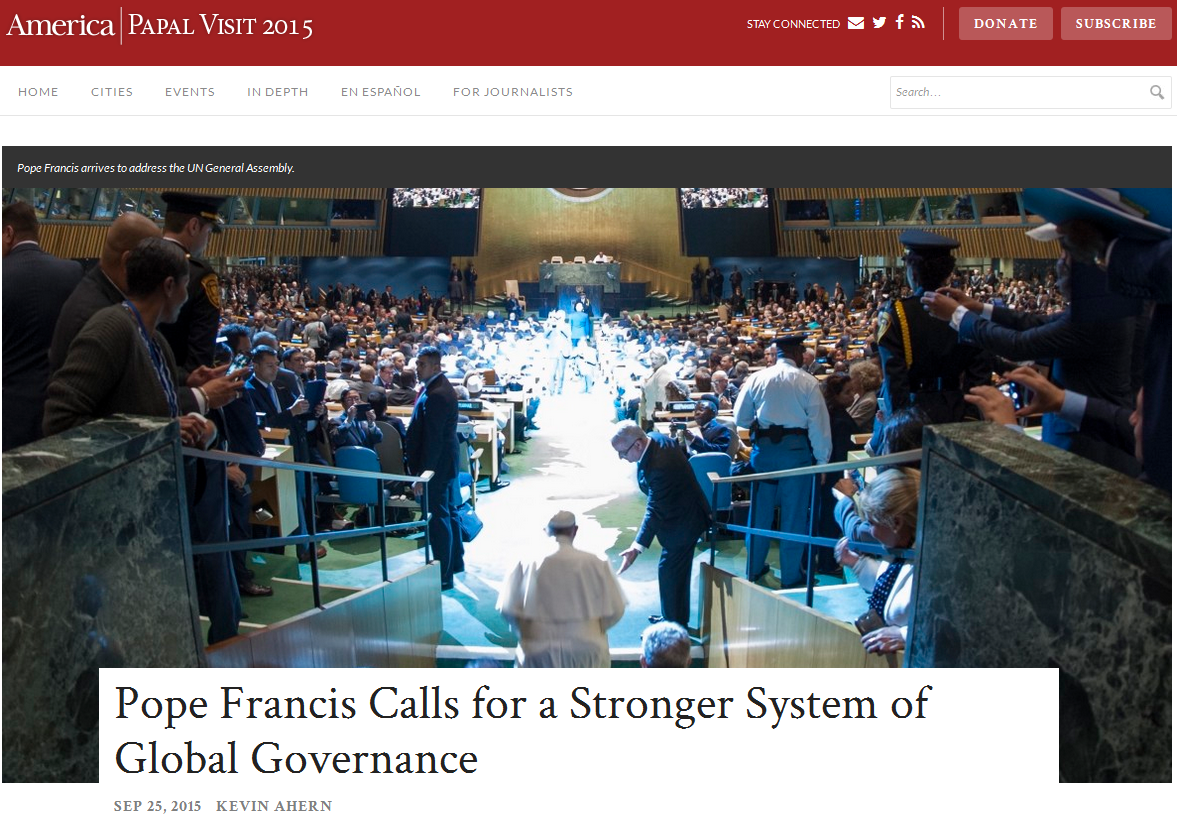 …From AmericaMedia.org
So if Pope Francis is presented as the "real" Antichrist, his 7-year tenure (the Tribulation) began on March 13, 2013 (the day he was made Pope). This would mean the second half of his tenure (the Great Tribulation) started sometime around September 13, 2016. And what was going on in Syria at that time? It was the time period of the US/Russian ceasefire agreement, which was broken when the US bombed Syrian soldiers on September 17. This means September 17th may have been the beginning of the Great Tribulation.
If the globalists are going with the Pope as the Antichrist, it is no wonder that we're looking at imminent war (Syria) and economic collapse (Deutsche Bank). That's to be expected during the Great Tribulation, and we'd have three and a half years of misery coming our way. And this would put the arrival of the "real" Christ figure on or about the Ides of March, 2020 — a fitting date for the fall of a global Caesar (the "Antichrist").
So was I wrong about the globalists' Plan A? Their very deliberate positioning of Obama argues against it. I blew the whistle on the Obama plot back in August of 2015, and by the end of January 2016, I'd exposed Plan A in depth. The Tomorrow's World video was posted after that, in March of 2016. Whether I was wrong or not doesn't matter anyway; the whole purpose of this blog is to forestall action and therefore be wrong. All that really matters is the knowledge that this prophetic fulfillment is the work of men, not anything supernatural.
The bankster "elite" are trying to sell you a Christ in either 2020 or 2023. Will you buy it?
Love always…
(P.S. – 7 October 2016) – A couple of people have left comments to bust my balls over my alleged belief that I am "saving the world" with my blog. While I certainly hope that I'm making some kind of difference with what I do, I view myself as a network printer, not a savior. The fact that I'm writing these things indicates that there are a lot of people out there who are coming to the same conclusions; I'm just one of the few who have the time and inclination to type it up and post it.
It is unwise to assume that our adversaries are invincible and will push ahead regardless of whether we're aware of their plans or not. In actuality, they care very much if we know what they're up to. What's the point of going through with their schemes if they know people will see through the end result? They don't want a stillborn messiah that everyone laughs at, and that is why they might switch from Plan A to Plan B. Plan B would shave 3.5 years off their journey to the end result, and that means there'd be 3.5 fewer years for our understanding to spread.
The fact of the matter is that their Western NWO vs. Eastern NWO dialectic is blown. Their artificial prophecy fulfillment effort to give the world a god-king is blown. The genie is out of the bottle. Too many people already know, and no amount of UN internet censorship will stop the understanding from spreading. So will they push ahead with building their "1,000-year" sandcastle of lies knowing that the tide of awareness will wash it away?