[Update 19A]
Is Panos Kammenos, seen here with Nigel Farage, the Mises Mafia's man in Greece?…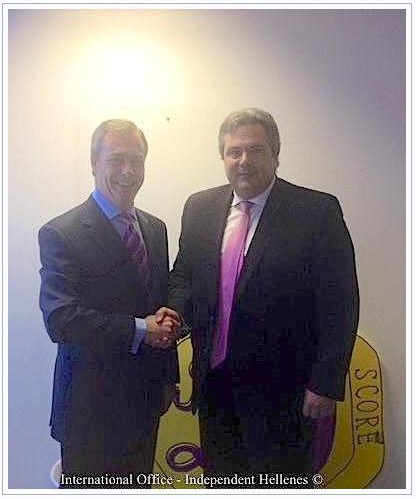 …And will he be the one to lead Greece's defection to the BRICS?
To give a little context before we proceed, the "Mises Mafia" are the "right wing" political figures (such as Ron Paul, Nigel Farage, Marine Le Pen, et al) who will be implementing Austrian economics after the transition to the BRICS-fronted New World Order. Austrian economics is a system of thought widely associated with economist Ludwig von Mises, and its development was funded by the Rockefellers. It is the theoretical underpinning for the NWO's economic system of laissez-faire capitalism.
Any talk you've heard of the NWO being a police state-like monolithic global government with a socialist/communist economic system was propaganda meant to scare you. The globalists' strategy has been to get you scared of a boogeyman NWO so you'll gladly embrace the real NWO when they present it to you.
The real NWO is a multilateral/multipolar global governance system paired with a "free market" capitalist economic system. And when the real BRICS-fronted NWO is publicly seen to defeat the boogeyman Western-fronted NWO (which has never been anything more than a propaganda construct), it will look like the solution to all the problems they have been deliberately creating for us.
Now let's go on to explore what they have planned for Greece…
Upon observing Syriza's abrupt about-face on their campaign promises to the Greek people, I knew their leaders were committing slow motion hara-kiri to make way for a coming "right wing" savior figure. So I started looking for the Greek equivalent to Nigel Farage. Upon beginning my search, I soon came upon this Searchlight Magazine article that contained a reference to "the racist-nationalist Independent Greeks, led by Panos Kammenos — the Greek equivalent of Nigel Farage," and thus began my journey of discovery.
As I delved into Kammenos, I discovered that he leads a Greek political party that fits all the characteristics one would expect from a Mises Mafia franchise…


> It is nationalistic (which fits into the NWO's "one world of nations" motif).
> It is conservative / "right wing" (after the "left wing" brings down the Interim World Order, the "right wing" will usher in the New World Order).
> It is populist (because the globalists intend to use "people's revolutions" to destroy the Interim World Order), and
> It is Eurosceptic (because the globalists intend to take down the EU central government and break Europe into smaller units bound by a new regional multilateral framework).
On that last point, I take you back to the 1961 NWO blueprint book Prospect for America. This is from page 26…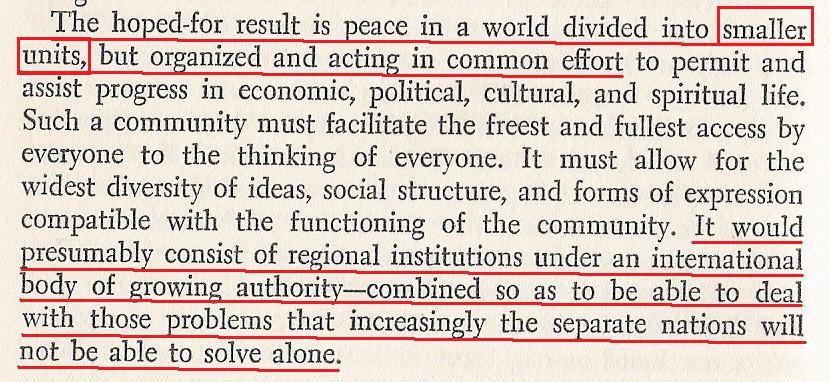 The globalists want the NWO to consist of "smaller units" because smaller nations are less likely to be self-sufficient in maintaining their security and a modern standard of living. They want all the nations to be dependent on the multilateral framework for their security and economic wellbeing.
Besides the Rockefellers' NWO architects, can you guess who else is talking about "smaller units"? Ron Paul (in this interview on RT)…
"I happen to believe in smaller units of government; the larger the unit of government, the worse things are…
So I think people should have the right to leave a larger unit of government."
And what else is Ron Paul talking about? Secession in the US…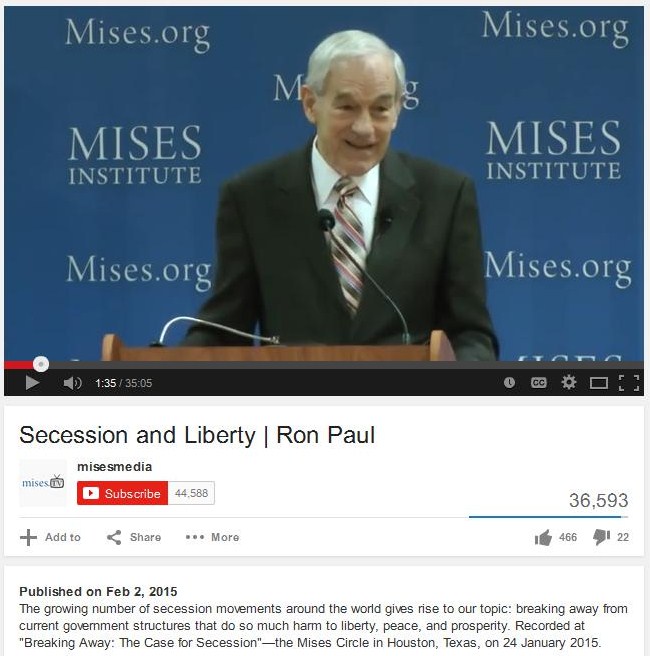 …Note that he gave this speech at a Mises Institute conference called Breaking Away: The Case for Secession…
[Starting from the 1:20 mark] – "I would like to start off by talking about the subject, and the subject, of course, is secession and nullification — the breaking up of government. And the good news is it's gonna happen. It's happening. And it's not gonna be because there will be enough people in the US Congress to legislate it — it won't happen. It will be de facto."
So we know the globalists are aiming to break up the EU (which is the Interim World Order in Europe), and Greece is where that will begin. But will they also break up the USA so it can never rise again as the power it once was? Will Russia and China meet the same fate at some point? Breaking up the large powers seems like a good idea on the surface, but not if it results in eagles becoming flies stuck in the globalist multilateral spider web.
Due to the length and complexity of this entry, I'm writing it in stages (19A, 19B, 19C, etc.). Rest assured, though, that I will definitely complete this one (for a change). 🙂 It is rather important.
[Update 19B – 2 March 2015]
Getting back to Panos Kammenos, his "right wing" Independent Greeks Party (ANEL) joined SYRIZA (the Coalition of the Radical Left) to form a coalition government after Greece's January elections, and Kammenos was elevated to the post of Greek Defense Minister as a result. This is the Yahoo News / Agence France-Presse account of what transpired: Kammenos: from conservative rebel to Greek PM's unlikely ally, and here are some key excerpts (with my comments added in brackets)…
>>> Panos Kammenos, whose nationalist Independent Greeks party has entered into an unlikely coalition government with the radical left-wing Syriza, once walked the corridors of parliament wearing a T-shirt that read: "Greece is not for sale."…
The burly politician's decision to immediately ally his party with Syriza following Sunday's election saw him rewarded with [the] defence minister's post in the new government unveiled on Tuesday…
But analysts say ANEL could prove to be something of a time-bomb, unpredictable at best, and that governing with the party could also disrupt the balance among the various left-wing factions that make up Syriza…
[A time bomb indeed. Kammenos' presence, along with mounting pressure as the four-month bailout extension approaches its end, will likely lead to Syriza's disintegration and a failure to reach agreement with Greece's European creditors. This will open the way for what Kammenos will do next.]
He is fond of conspiracy theories, blaming shadowy international plots for Greece's economic plight and frequently accusing some Socialist politicians of backing a homegrown terror group in a country where anarchism has deep roots…
[So he is a truther, but not one of the genuine variety. His statements are designed to make him look like a "straight shooter" who has been "telling truth to power" just like Ron Paul, Marine Le Pen, and Nigel Farage.]
Devoutly Christian Orthodox, Kammenos has been accused of anti-Semitism after he alleged in December that Jews enjoyed preferential tax treatment in Greece…
[His ties to the Eastern Orthodox Church are his occulted connection to Vladimir Putin, which I'll show you a little later. And his "anti-Semitism" positions him as an enemy of the Zionists (who will be scapegoated along with the Nazis when the Transition comes).]
Kammenos has vowed to end "the humiliation" of painful spending cuts and reforms imposed on Greece in return for the 240-billion-euro bailout ($270 billion) from the EU and the International Monetary Fund.
"Panos Kammenos is deeply patriotic… without being a nationalist in the bad sense of the word," said Nicolas Dupont-Aignan, president of the French anti-EU group Debout la France, the French equivalent of ANEL.
"He is not anti-European, he is anti-EU," he added. "There's a difference."
[So Kammenos supports Europe as a region, but he does not support the EU, which he says is governed by "neo-Nazi Germans." Needless to say, being pro-Europe as a region is very much in line with the region-based NWO, as is blaming the Nazis (instead of the G20 Central Banking Cabal) for all the world's ills. Kammenos' list of bad guys includes the (Zionist) Jews, the (neo) Nazis, and the Western banksters (IMF, ECB), and that is precisely what the globalists' "Bad West vs. Good East" dialectic calls for.] <<<
Speaking of the "Good East," let's have a look at Kammenos' ties to the Eastern Orthodox Church. According to his Wikipedia bio…
"He has been honored with the Grand Cross of Merit from the Czech Patriarchate, [and] the Medal of Honor from the Patriarchate of Jerusalem…"
The Patriarchate of Jerusalem has been headed by Theophilos III since 11/22/2005 (the Occulted Powers and their minions just love their "master numbers")…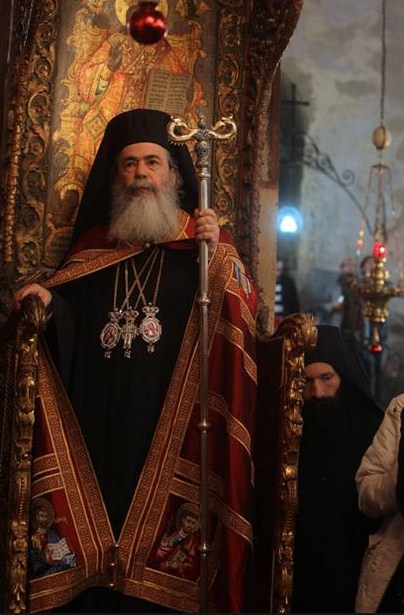 …And take note of his double-dragon crosier…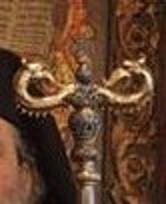 …Could such symbols be a nod to the Dragon bloodlines (the real or mythological products of mating between the "Sons of God / Elohim / Anunnaki" and humans)? Are these bloodlines the ones who are the Occulted Powers?
This is the Patriarch's official title: "His Most Godly Beatitude, the Patriarch of the Holy City of Jerusalem and all Palestine, Syria, Arabia, beyond the Jordan River, Cana of Galilee, and Holy Zion, Theophilos III." So his territory is basically the Levant, ISIS/ISIL's stomping grounds, and it includes "Holy Zion." Don't you find that interesting in light of current events?
Here is Theophilos III visiting the Valaam Monastery in Russia…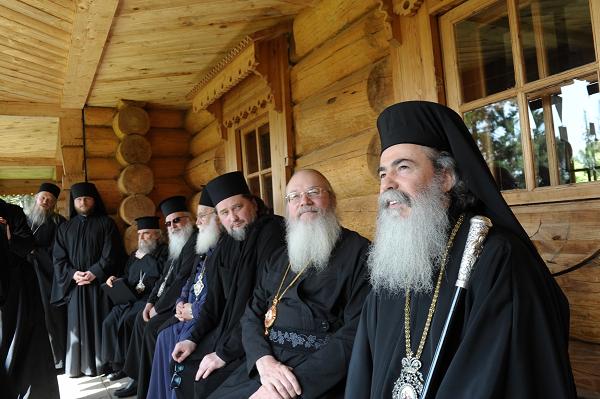 Guess who else hangs out there…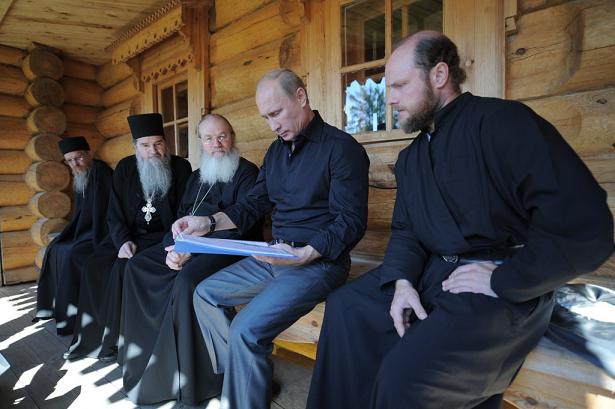 And here is Putin meeting with Theophilos III in Jerusalem…

It is also worth noting the intimate ties amongst Valaam, the Eastern Orthodox Church, the bloodline families, and the current Russian political structure. As the Wikipedia entry on Valaam Island points out…
"The island was visited repeatedly by emperors Alexander I, Alexander II, and other members of the imperial family…
The president of the Russian Federation has a dacha on one of the islands of Valaam, but its precise location is not publicly known."
I show you these things to point out that the Eastern Orthodox Church (a component of the Roman Empire that has functioned continuously since the fall of Rome's civil government) is a network through which the Occulted Powers work behind the scenes to orchestrate what happens on the public stage, and both Putin and Kammenos are tied in with that network. Kissing the rings (and other objects) of Rome's kingmakers is a practice that continues unabated to this day, which is aptly demonstrated here by Vladimir Putin…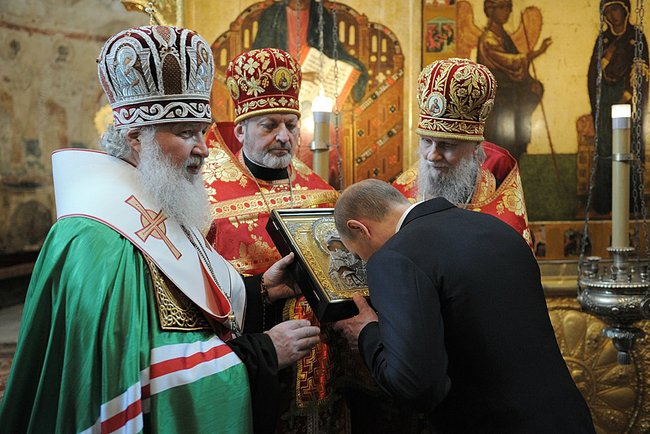 …"That's a good little Vladdy-boy."
It's also worth noting something about the leader of Kammenos' coalition partner Syriza: "Alexis Tsipras, a self-described atheist, became the first Prime Minister to opt for a secular affirmation instead of the traditional religious oath. He was sworn in by President Karolos Papoulias instead of the Archbishop of Athens…"
[Update 19C – 9 March 2015]
The Orthodox Kammenos-Putin link demonstrates itself in the following report from Business New Europe / Intellinews: New Greek Government: Russia's Trojan Horse inside the EU?…
>>> Concerns over Greece are not restricted to Syriza, but also to the leftwing party's choice as coalition partner: nationalist party Independent Greeks (Anel), a party that has also taken a pro-Russian line, according to Ukrainian researcher Anton Shekhovtsov.
Panos Kammenos, founder of Anel and Greece's new defence minister, was quoted in Greek media as saying in May 2014, in the aftermath of the annexation of Crimea, that "we publicly support President Putin and the Russian government who have protected our Orthodox brothers in Crimea".
Shekhovtsov revealed that Kammenos visited Moscow on January 15, 2015, at the peak of the fierce election campaign, to meet with Putin's parliamentary allies in defence and foreign affairs. After the meetings, Kammenos declared his opposition to EU sanctions on Russia: "Anel is ready to create a European-wide group involving political forces from South European countries, the economy of which has been damaged as a result of the EU economic sanctions against Russia," he said. "The aim of this group will be a reversal of this process that affects more the EU countries and less Russia," he said, as quoted by Shekhovtsov.
Shekhovtsov posted photos of the meetings. "With Russian tool Panos Kammenos as new Greek Minister of Defence, Nato information security is obviously at risk," he commented. In addition, Syriza's 2013 manifesto calls for Greece to exit Nato. <<<
I found another account of Kammenos' interaction with the Russians in mid-January on the Peacekeeper.ru site: Independent Greeks Party Leader Calls For Lifting The Sanctions Against Russia…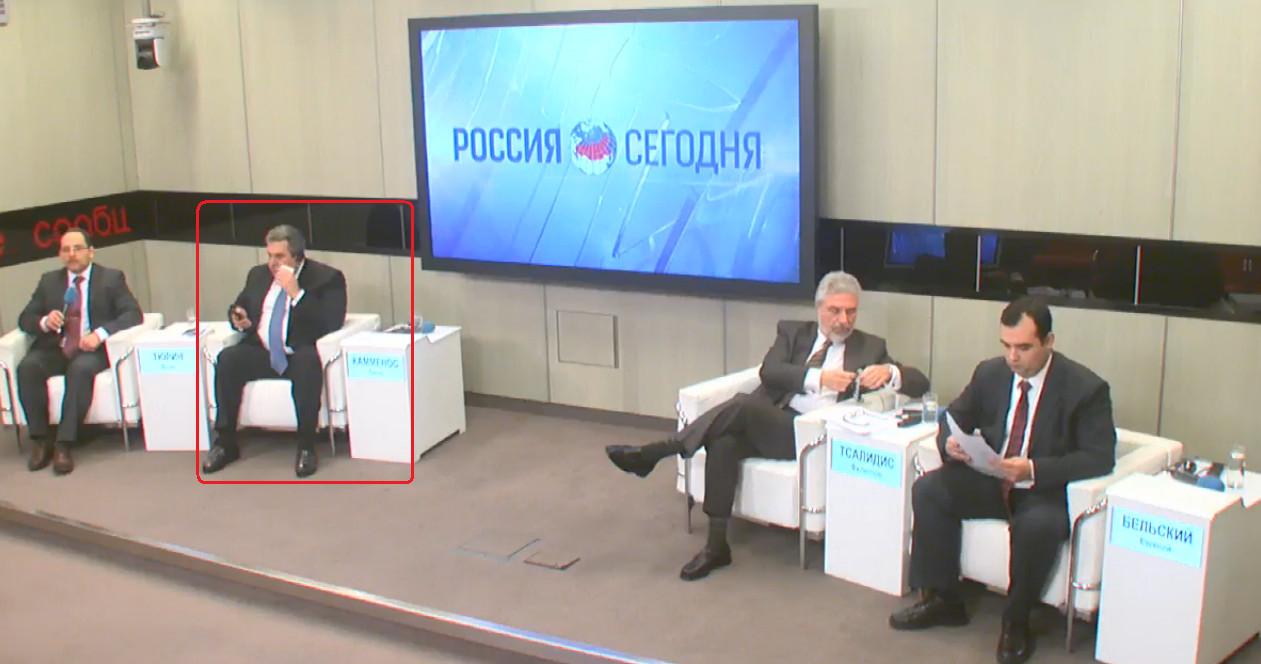 >>> A roundtable discussion 'The parliamentary elections in Greece: a change of course and exit from the euro zone' took place in Rossiya Segodnya news agency on Wednesday, January 14.
The discussion was attended by the leader of Independent Greeks opposition party Panos Kammenos, Institute of geopolitical issues Director Philippos Tsadilis, Russian Peacekeeper web review Chied Editor Evgeny Belsky, Russians Abroad Institute Deputy Director Alexander Shchedrin and InfoRos information agency Chief Editor Denis Tyurin. <<<
So 11 days before the Greek elections, Kammenos was talking to the Russians about "a change of course and exit from the Euro Zone."
[Update 19D – 25 March 2015]
In the time since I last wrote, Syriza has been busy reaching for Greek pensions and utility company funds to make payments to the Troika (the European Commission, the European Central Bank, and the International Monetary Fund), and this complete abrogation of their campaign promises is intended to incense the Greek people and set the stage for a "Greek Spring." The Establishment will, of course, use their standard "color revolution" techniques to get it started, and the Mises Mafia have been busy stoking the revolutionary fires.
Here is Nigel Farage narrating the beginning of the post-election Greece versus Troika conflict: Farage on Friday: Here's hoping Greece fights back against Germany and her euro masters.
"SO the great game of poker between Greece and Germany begins, while the IMF, European Central Bank, and other European institutions watch on nervously. The question is, will Greece fight back?…
Now it seems there are some voices in Greece at least suggesting they're not prepared to meet the repayment terms foisted upon them by the European Central Bank, the International Monetary Fund and the other European institutions.
Years of austerity now mean that the annual budget increase is roughly in balance, unlike the United Kingdom. But what is the point of all this pain if nothing is really improving?
That's the message that won Alexis Tsipras and his Syriza party the election last week. He is now in coalition with my friend Panos Kammenos of the Independent Greeks."
And here is Farage fanning the flames of Greek revolution before the European Parliament…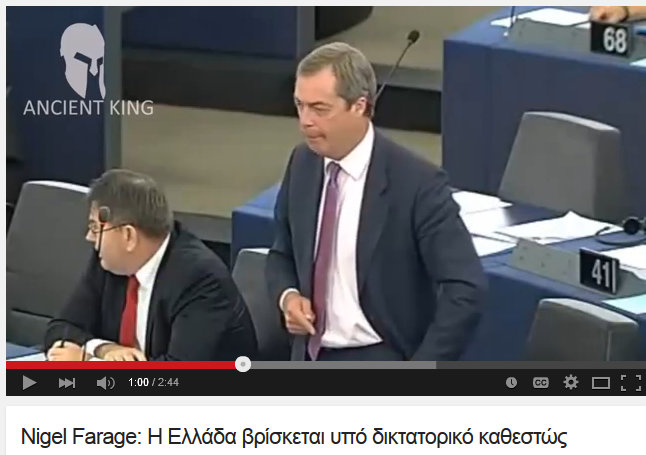 From the 1:00 mark: "What is European economic governance? I'll tell you what it is: it's a plane landing at Athens airport out of which get an official from the Commission, an official from the European Central Bank, and an official from the appalling IMF, and those three people — the 'Troika' you call them — go in, they meet the Greek government, and they tell the Greek government what they may or may not do.
You have killed democracy in Greece. You have three part-time overseas dictators that now tell the Greek people what they can and can't do. It is totally unacceptable. Is it any wonder the Greek people are now burning EU flags and drawing swastikas across them? You are — frankly, unless Greece is allowed to get out of this economic and political prison, you may well spark a revolution in that country."
Needless to say, sparking a revolution in Greece is exactly what the Troika are aiming to do, and Farage is dutifully playing his part in the farce.
Here is another European Parliament speech by Paul Nuttall, a member of Farage's UK Independence Party and Europe of Freedom and Direct Democracy group…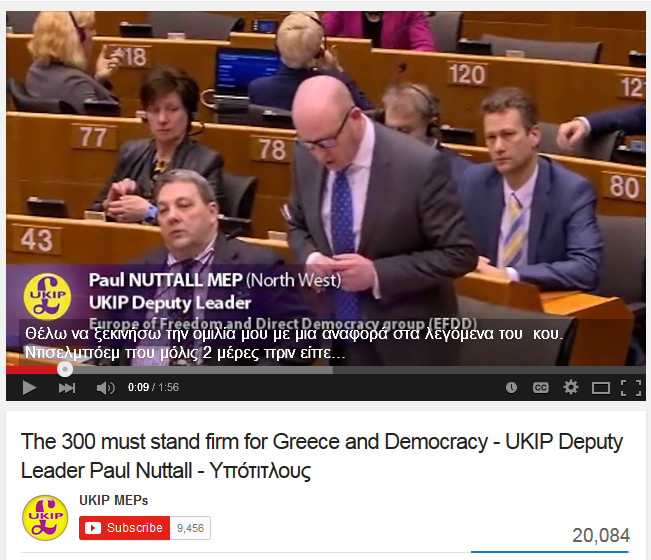 "Mr. President, I will also focus on Greece today, and I want to start by quoting the Chairman of the Eurogroup, Jeroen Dijsselbloem, who only two days ago said, 'You are mistaken if you think democracy is where one election result can change the way we work in the Eurozone.' Indeed, Mr. Juncker, you're on record saying that there can be no democratic choice against the European Union's treaties. Now that tells us all we really need to know, doesn't it, about what the Euro fanatics think of democracy. And isn't it ironic that you are destroying democracy in its very cradle, Greece.
You have allowed Greece to enter a currency that it should never have been in, you have removed the democratically elected Prime Minister when he offered his country a way out through a referendum, you have imposed austerity that has taken the people of Greece to the brink, yet you still shackle this great country with economic chains. To you I say 'sovereignty and democracy in Greece are not yours to take.' The Greeks have suffered enough. The battle lines are clear: it is the forces of democracy in Greece against the undemocratic forces of a European Union.
To the Greek Parliament I ask, 'Will the 300 stand firm?' And to the Greek people I say, 'Be courageous. Protect your birthright. You are the creators of democracy and now you must save it. Invoke the courage and spirit of your forefathers. Do not buckle. Do not falter. Do not give in. You are the defenders of democracy now. You are the nation of Homer, Plato and Aristotle, and if you stand your ground, you will prevail, and you will be a beacon of hope to us all.' Thank you."
Now this is how you propagandize for a "people's revolution"! 🙂 Note how he invokes the mental imagery of the 300…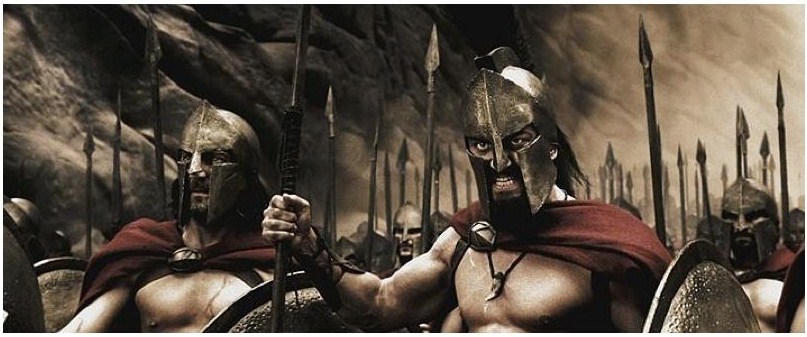 …And how symbolically appropriate is it that the Greek Parliament has 300 seats?…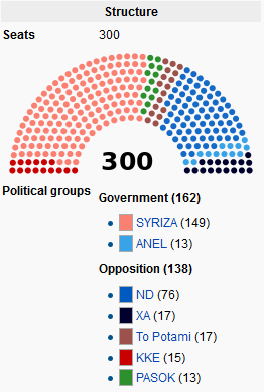 …Hollywood screenwriters couldn't do any better job than the globalist color revolution engineers are doing in scripting this coming "democratic revolution."
[Update 19E – 25 March 2015]
Meanwhile, in Greece, this is what some members of Syriza have been talking about:
> From this CNBC article: 'It's treason!' Greek anger at government u-turn…
>>> Far left members of Syriza have also accused their party of abandoning previous election pledges to scrap the country's bailout.
Manolis Glezos, a Syriza member of the European Parliament and veteran left-wing politician, apologized for his party's move to placate its lenders.
"I apologize to the Greek people because I took part in this illusion," he wrote in a blog. "Syriza's members, friends and supporters … should decide if they accept this situation."…
Wolfango Piccoli, managing director of risk consultancy at Teneo Intelligence, warned that the negotiation process had secured Greece only two concessions: a lower primary surplus for 2015 and the acknowledgment that the program will be amended so as to give Athens a greater say on reform proposals. He added that Tsipras' standing had been "negatively affected" by the talks.
"The agreement allows both sides to save face but also sets the stage for even tenser negotiations over the country's financial future and for a possible backlash in Greece," he said in a note Sunday. "The list of reforms to be presented on Monday will be an important factor determining whether Syriza is able to convince its own MPs and voters." <<<
The last paragraph reflects the real reason for the four-month bailout extension: it provides a time period of high drama which will be used to generate public sentiment for a Greek Spring and a Summer Revolution.
> From this LA Times article: European creditors endorse Greek reform plans as leftists object…
>>> Already, several prominent Syriza members are calling on Tsipras to honor his campaign pledges.
"It's difficult to determine how the government can fulfill its promises, including a write-off of the country's debt," said Costas Lapavitsas, a prominent economics professor recently elected to parliament on the Syriza ticket. "It is imperative for the government to explain how it plans to do just that under the current agreement."
Even renowned composer Mikis Theodorakis waded into the brewing revolt, meeting with Tsipras Tuesday to try to persuade him to resist the pressure for concessions that would, he said, submit the country to the creditors' "fatal embrace."
"Syriza leaders," he said, "have to find the strength, even now, to say 'nein' to Germany."
More than 40 lawmakers of the ruling party were said to be drafting a petition for an urgent meeting of Syriza's central committee. Although no one has openly requested Tsipras' resignation, swelling dissent within the ruling party could complicate the government's bid to carry out the proposed measures, which require swift approval by the country's 300-seat parliament. <<<
An interesting thing to note about this passage is one of the people quoted, Costas Lapavitsas, is an economics professor at the School of Oriental and African Studies at the University of London. And who is the chancellor of the University of London? HRH The Princess Royal…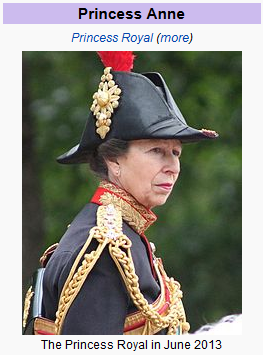 So in Costas Lapavitsas you have a paid agent of the London Establishment drumming up dissension within Syriza. But he's not the only one.
> From this Zero Hedge article: Revolt In Athens: Syriza Central Committee Member Says "Leadership Strategy Has Failed Miserably"…
>>> Not everybody is ignoring that fact that just days after the new Prime Minister promised the Greek population on prime time TV that the loathed bailout program wouldn't be extended and that Greece would have a fresh start – i.e., the mandate it was elected on – one without austerity, Greece folded on virtually every demand, to the point where the European Commission may itself have drafted the "reform agreement" that the Greek finance minister was said to have created.
One person who may be starting a splinter revolt within Syriza itself is Stathis Kouvelakis, a member of the central committee of the leftist organization, a teacher of political theory at King's College, and the latest to demonstrate that the Syriza facade of cohesive acceptance of the past week's "negotiations", is starting to crumble…
"If, therefore, we wish to avert a second, and this time decisive, defeat — which would put an end to the Greek leftist experiment, with incalculable consequences for society and for the Left inside and outside this country — we must look reality in the face and speak the language of honesty. The debate on strategy must finally recommence, without taboos and on the basis of the congress resolutions of Syriza, which for some time now have been turned into innocuous icons.
If Syriza still has a reason for existing as a political subject, a force for the elaboration of emancipatory politics, and for contribution to the struggles of the subordinated classes, it must be a part of this effort to initiate an in-depth analysis of the present situation and the means of overcoming it." <<<
The person being quoted in this article, Stathis Kouvelakis, is a political theorist and faculty member of King's College London, which is a constituent college of the University of London. So in Kouvelakis, you have another paid agent of the London Establishment helping to magnify the rifts within Syriza and predicting that Syriza's coming failure will "put an end to the Greek leftist experiment" and lead to "incalculable consequences" for the political left both inside and outside Greece. This is, of course, exactly what the globalists' script calls for: the "Left" destroying everything and the "Right" sweeping in to bring order (and Austrian Economics).
[Update 19F – 26 March 2015]
Let's look now to the current situation faced by Syriza. According to this New York Times article…
>>> On Feb. 20, Greek leaders signed a four-month bailout extension with its three main creditors — the International Monetary Fund, the European Central Bank and the European Commission. Yet creditors have refused to release a critical 7.2-billion-euro, or about $7.8 billion, loan payment (money that Syriza had once vowed not to accept but that is now badly needed) until the government provides a list of acceptable structural reforms to replace pension cuts and other austerity measures that had been under consideration by the previous government. <<<
So the Troika are refusing to give Greece needed funds unless the Greek government provides an acceptable list of "structural reforms"/austerity measures. And without the funds, it is estimated that the Greek government will run out of cash by late April. This leaves Syriza with four choices:
1) Give the Troika the new austerity measures they are seeking, thus completely and officially betraying their campaign promises to the Greek people. Since Syriza is a coalition party of different "far left" groups, such an action could lead to its disintegration as well as general social unrest.
2) Rob money from the Greek economy to keep making their payments, which would not sit well with those being robbed. This too could lead to party disintegration and public unrest.
3) Remain paralyzed and allow Greece to fall into financial ruin and chaos.
4) Exit the euro and reinstitute the drachma.
It would seem that the globalist script requires Syriza to choose from options 1, 2, or 3 while also requiring Germany to remain intransigent in their demands for Greek compliance, and the situation will come to a head in late June as the bailout extension expires (and as the new BRICS Bank nears its debut). This is where Panos Kammenos comes in. Have a look at this Reuters article: Greek defence minister says Greece has Plan B if EU rigid on deal…
>>> Greek Defence Minister Panos Kammenos said that if Greece failed to get a new debt agreement with the euro zone, it could always look elsewhere for help.
"What we want is a deal. But if there is no deal – hopefully (there will be) – and if we see that Germany remains rigid and wants to blow apart Europe, then we have the obligation to go to Plan B. Plan B is to get funding from another source," he told a Greek television show that ran into early Tuesday. "It could the United States at best, it could be Russia, it could be China or other countries," he said. <<<
So as the Greek crisis reaches its crescendo, Syriza will disintegrate and the Greek government will fail. And when a civilian government fails, who typically steps in to maintain social order? The military, right? And who is the leader of the Greek military? Defense Minister Panos Kammenos.
Kammenos will step up to maintain some semblance of order in the wake of Syriza's disintegration and will go to his friends in Russia to secure aid from the freshly-launched New Development Bank (NDB, the BRICS Bank — the BRICS will be holding their 7th summit meeting in Russia on July 8–9, and will likely announce the NDB's launch at that time). An emergency election will then be held to install a new Greek parliament that will restore the drachma and approve the NDB loan. Since this will occur at about the same time as the next financial crisis begins, it will be the first domino in the fall of the EU. From the ashes of the EU, a new multilateral European order will rise — one that "restores sovereignty, freedom and direct democracy" (New World Order style).
Unless people know what the globalists are doing beforehand, it's unlikely the public will ever figure out what's going on. The adrenaline rush that the NWO will offer them will sweep aside their reason. They will gleefully walk into their new gilded cage. So let's spread the word.
Much love…
For the previous updates in this series, click here.