So EXACTLY 7 years – the "Magic 7" – after the Fed cut their rates to near zero…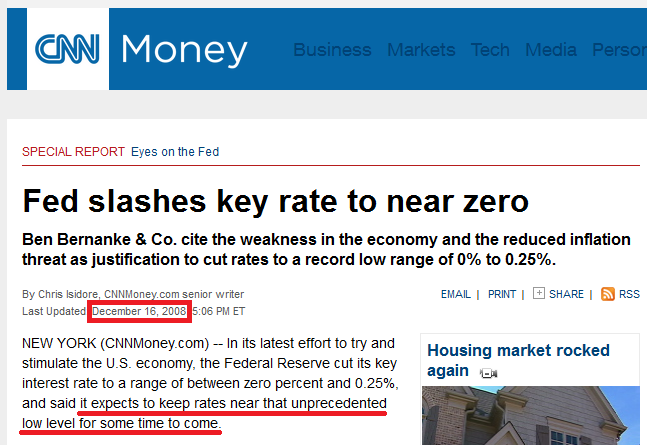 …they finally raised them again. Who'da thunk it?
In the lead-up to today's Federal Reserve interest rate hike, we heard all kinds of arguments as to why they would or wouldn't do it. These arguments were based on economic theories, market data, and analyses of how a "rational" Fed would act to "perform its mission of preventing economic shocks, maximizing employment, enhancing stability in prices, and ensuring moderate long-term interest rates." Such talk was all childish bullsh*t.
The simple truth is that the Fed is pulling the same trick the banksters always use: hand out easy credit until everyone piles on so much debt that they can barely afford to service it, then trigger an economic crisis or an interest rate hike so they can't service it. Real assets are then seized and the process starts all over again. Only this time, they aim to get a New World Order out of it too.
From this point on, things will go roughly like this…
1) A growing wave of trouble will wash over the emerging market nations, sending them hat-in-hand to the multilateral institutions, especially those of the BRICS nations. The help they receive will come with multilateral strings attached.
2) Another growing wave, that of disgust, will also sweep through the developing nations (DNs). This disgust will be directed at the West, especially the United States and its military and monetary policies, and the DNs will demand change to how the world is run.
3) The Next Lehman Moment will occur, which will bring down the West and the whole global financial system. It is at this point that the BRICS will pull out their trump card: their gold reserves. They will add gold valuation to their currencies and will also offer to save the financial system, but only if "real reforms" are made.
4) The UN, IMF, and World Bank will receive a facelift, and the New World Order will then be in effect. This should occur around September of 2016.
Don't worry, though, the NWO is designed to last for only 7 years. So we have from now till late 2023 to wake up and step away from the bullet that's coming our way.
(P.S. – 16 December 2015) – Now here's a date that makes me uncomfortable: December 22nd (22 is a Masonic Master Number that can represent "disastrous downfall"). The Congress is expected to pass a stopgap spending bill today to keep the government open through that date. So if something should happen to interrupt the budget process (like an "ISIS" attack in Washington), the government will shut down on midnight of the 22nd, right before Christmas.
Even if the budget does get passed before then, keep an eye out for "ISIS" false-flags in multiple cities during the Christmas to New Year's timeframe.
Love always…