"We will lead every revolution against us"…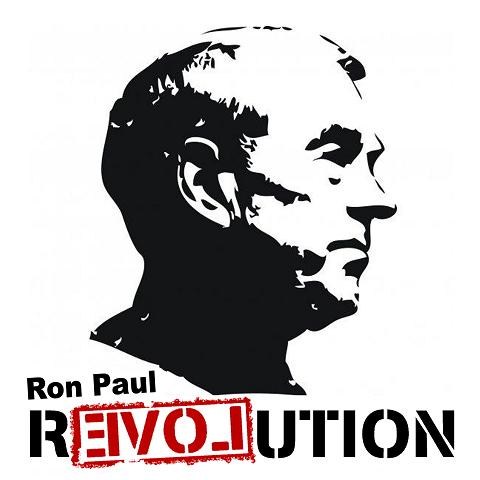 For any who might still be wondering if Ron Paul is a globalist-run controlled opposition figure, have a look at his new Lessons from Paris essay. Here are some key excerpts…
"After the tragic shooting at a provocative magazine in Paris last week, I pointed out that given the foreign policy positions of France we must consider blowback as a factor."
In this essay, Paul is treating the Paris attacks like they're real terrorist events conducted by real Muslim extremists as retaliation for France's interventionist foreign policy. There is no mention whatsoever of the possibility that the attacks are a false-flag conducted by the globalist intelligence agencies. This is a stunning oversight considering what he goes on to say next…
"If Islamic extremism is on the rise, the US and French governments are at least partly to blame. The two Paris shooters had reportedly spent the summer in Syria fighting with the rebels seeking to overthrow Syrian President Assad. They were also said to have recruited young French Muslims to go to Syria and fight Assad. But France and the United States have spent nearly four years training and equipping foreign fighters to infiltrate Syria and overthrow Assad! In other words, when it comes to Syria, the two Paris killers were on 'our' side."
By now, it is known to everyone with a brain stem that the globalist intelligence agencies are the ones behind recruiting, organizing, training, arming and funding Islamic extremists throughout the world. Even Paul admits this…
"Beginning with Afghanistan in the 1980s, the US and its allies have deliberately radicalized Muslim fighters in the hopes they would strictly fight those they are told to fight. We learned on 9/11 that sometimes they come back to fight us."
Brainstem-equipped persons further know that the agencies move these mercenary assets to wherever they want to create trouble, and that includes the US and Europe. Notice that Paul doesn't admit this. He instead implies that these young men "left the reservation" and did it all on their own out of anger over France's foreign policy. There is no mention of even the possibility that the attackers were either intelligence assets or naive young ideologues being manipulated by agency handlers and deliberately tasked to conduct the attack. Note also how Paul applies the same argument to 9/11: it was no false-flag, just blowback from our own foreign policy.
"We have learned that the two suspected attackers had long been under the watch of US and French intelligence services. They had reportedly been placed on the US no-fly list and at least one of them had actually been convicted in 2008 of trying to travel to Iraq to fight against the US occupation. According to CNN, the two suspects traveled to Yemen in 2011 to train with al-Qaeda. So they were individuals known to have direct terrorist associations. How many red flags is it necessary to set off before action is taken? How long did US and French intelligence know about them and do nothing, and why?"
Isn't the "why" obvious? The US and French intelligence agencies wanted the attack, but Paul won't admit this. This leads one to wonder…
Is Ron Paul unaware of the concept of the false-flag attack and its role in statecraft?
Did he not notice how 9/11 was used to drive the population towards accepting the Patriot Act and the War on Terror? Will he now not notice where the globalists are driving the French population with the Paris attacks?
Why did he vote for the Authorization for Use of Military Force Against Terrorists after 9/11?…
>>> Section 2 – Authorization For Use of United States Armed Forces
(a) IN GENERAL- That the President is authorized to use all necessary and appropriate force against those nations, organizations, or persons he determines planned, authorized, committed, or aided the terrorist attacks that occurred on September 11, 2001, or harbored such organizations or persons, in order to prevent any future acts of international terrorism against the United States by such nations, organizations or persons. <<<
While pondering this question, have a look at this video in which We Are Change discusses 9/11 with Paul (starting at the 1:14 mark)…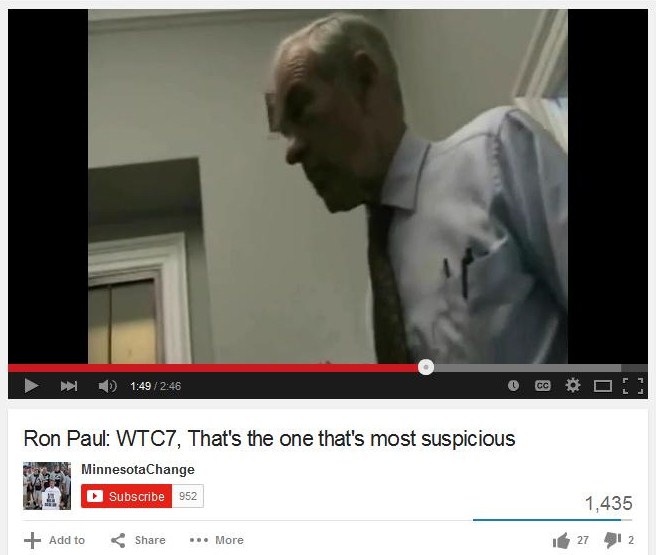 In the video, Paul says this: "Well… you know… I've said many times that I don't think the investigation did any more than cover up the truth…
…The big question is who's behind it and what's the motivation…
…[World Trade Center building] number 7 is the one that's most suspicious…"
So in a private conversation, Paul admits something suspicious went on with 9/11, but his public statements about 9/11 and the other false-flags support the globalist propaganda line: that they're real terrorist attacks, they're done by radicalized Muslims, they're blowback for our interventionist foreign policy, and they're not false-flags.
The policy of the globalists is to deny 9/11 Truth until it's time to unveil the "saviors." At that point, they plan on hitting the public with a phony "Truth Tsunami" to bowl people over and get them thinking that things are really changing. As I noted in The Multilateral/Multipolar New World Order will seem like heaven… at first…
>>> The globalists are in the process of running a problem / reaction / SOLUTION scam on us, not a problem / reaction / PROBLEM scam.
This means that when we reach the end result of this transition process, the NWO will look like the SOLUTION to all our problems, not another PROBLEM (such as a dark, scary fascist regime) we need to overcome. It will appear as though the corrupt have been defeated, World War 3 has been stopped, all regional conflicts have been resolved, biowarfare against the population has been halted, poverty has been alleviated, debt money has been abolished, secrets have been revealed, and so on and so forth. And the masses, after having been force-fed negativity and conditioned to expect a scary NWO for so long, are expected to be so overcome with joy that they'll willingly embrace the New Order. <<<
Once the Truth Tsunami begins, how will Ron Paul explain-away his failure to speak out about the false-flag nature of the attacks?…
"I was limited in what I could publicly say about 9/11 because they had threatened to kill me and my family."
…or…
"I didn't realize just how deep the corruption and treason ran until I saw all the classified information that has come out recently."
We'll find out as early as next year.
[Update 1 – 14 January 2015]
Selective Truthing
A reader has sent me some links that prove Ron Paul is familiar with the concept of the false-flag attack. This article shows that Paul specifically spoke out about the potential that a false-flag could be used to start a war with Iran…
From the 28:15 mark of this video: "What I fear the most is a false flag: something happening where one of our ships goes down, or there's a plane goes down, and of course it had to be the Iranians, you know — for sure — for certain."
And from the 1:24 mark of this video: "I am concerned, however, that a contrived Gulf of Tonkin type incident may well occur to gain popular support for an attack on Iran."
The article also notes that none other than Zbigniew Brzezinski also issued such a warning. Here is an excerpt from the Brzezinski link the article offers…
>>> A plausible scenario for a military collision with Iran involves Iraqi failure to meet the benchmarks; followed by accusations of Iranian responsibility for the failure; then by some provocation in Iraq or a terrorist act in the U.S. blamed on Iran; culminating in a "defensive" U.S. military action against Iran that plunges a lonely America into a spreading and deepening quagmire eventually ranging across Iraq, Iran, Afghanistan, and Pakistan. <<<
The reader also provided a link to this article which references the 1:40 mark of this video where Paul mentions that the infamous gas attack in Syria might be an Al Qaeda false-flag…
"We're not really positive who set off the gas. I mean the group that's most likely to benefit from that is Al Qaeda. They ignite some gas, some people die, and blame it on Assad."
Seeing all this leaves us with some obvious questions:
Why would Ron Paul, Zbigniew Brzezinski and other globalist mouthpieces be warning about a false-flag against Iran?
Why would Ron Paul blow the whistle on false-flags in Iran and Syria while remaining silent on ones in New York, London, and Paris?
What's the angle?
The answers to these questions are most interesting and quite revealing, so I will prepare a lengthy entry on the subject and try to release it on Monday. Barring any big unforeseen developments, there will be no further posts till then.
Much love…