Let's resume our exploration of The Astral Plane with a passage that spans pages 2 and 3…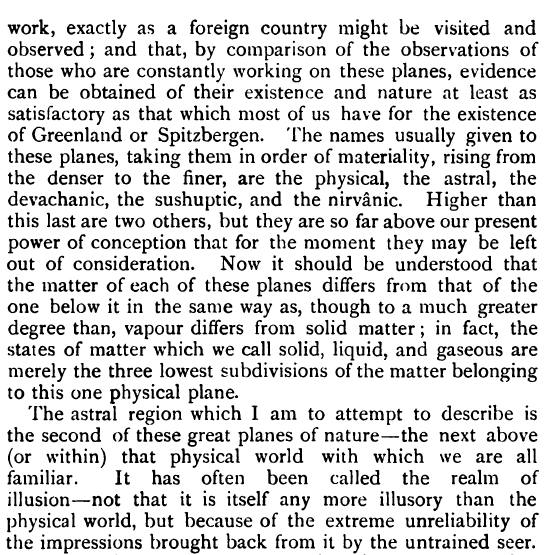 In this passage the author admits that he is peddling a religion ("the Wisdom-Religion"), and he goes on to describe a core doctrine of it: "the fact that in our solar system there exist perfectly definite planes." He then explains that there are 7 such planes and he names 5 of them.
When I read this, I immediately wondered who was the first person to come up with this "7 planes" idea. It's not hard to imagine how it got started: a spiritual seeker / meditator in the distant past came up with his own pet theory of how the world worked, then he went into the astral and was shown what he was expecting. Upon sharing the idea with others, he taught them how to see what he was seeing, and since they all then saw it, they thought it was objective reality. The students then became masters who passed it down to more students who became masters until it became widely accepted doctrine.
In truth, the 7 planes are a subjective reality that has been constructed in the collective subconscious – it is a subjective form that has been overlaid upon the Astral Plane by those who believe in it. It isn't objectively real at all, which is evidenced by the fact that the 7 planes can be seen only by those who have been programmed to see it (either because they've been taught by a "master" or they've picked up the idea somewhere – in a book, on a website, etc. – and accepted it). If the first master had instead came up with the idea of 11 planes, the Theosophists and others would now believe in and see 11 planes.
That being said, I would suggest that there are not 7 planes; there are only the conscious mind and the subconscious mind, and when we consciously enter the subconscious mental space, we are shown what we most expect / fear / want to see, whether that's 7 planes, 11 planes, or no planes at all. Just because two or more conscious minds can be programmed to see the same subconscious illusion does not change the fact that illusion is what they're seeing.
But you don't have to take my word for it; the author inadvertently admits this is the case when he says this about the Astral Plane…
"It has often been called the realm of illusion – not that it is itself any more illusory than the physical world, but because of the extreme unreliability of the impressions brought back from it by the untrained seer."
In this statement, he calls anyone who isn't programmed to see what he's been programmed to see an "untrained" seer (thus implying their incompetence), and he calls their unprogrammed impressions of the Astral Plane "extremely unreliable" (because their impressions do not reflect what he's been brainwashed to see). I find this a rather condescending attitude coming from a 19th Century Kool-Aid drinker. In reality, "untrained" seers are "unprogrammed / unbrainwashed" seers, and they see subconscious illusions according to their own dominant expectations, not the dominant expectation they've allowed someone else to place in their minds.
With this concept of programmed seeing in mind, let's switch for a moment to the Introduction offered in the Kindle edition of The Astral Plane. It was written by C. Jinarajadasa, the man who assisted Leadbeater in writing the book. In describing his own "psychic education" under "Master Djwal Kul," he says this…
>>> I know not how to thank Him for the enormous amount of care and trouble which He took in my psychic education; patiently and over and over again He would make a vivid thought-form, and say to me: "What do you see?" And when I described it to the best of my ability, would come again and again the comment: "No, no, you are not seeing true; you are not seeing all; dig deeper into yourself, use your mental vision as well as your astral; press just a little further, a little higher."

This process often had to be many times repeated before my mentor was satisfied. <<<
So here we see a very clear example of a master programming his student to see what he wants him to see, and this process of mental and psychic entrainment continues in all the things the master trains the student to see, including the 7 planes. They too are another thought-form conjured up by the masters.
Much love…