It looks like the globalists have set the timeframe for the expected Trump vs. Xi showdown in the South China Sea…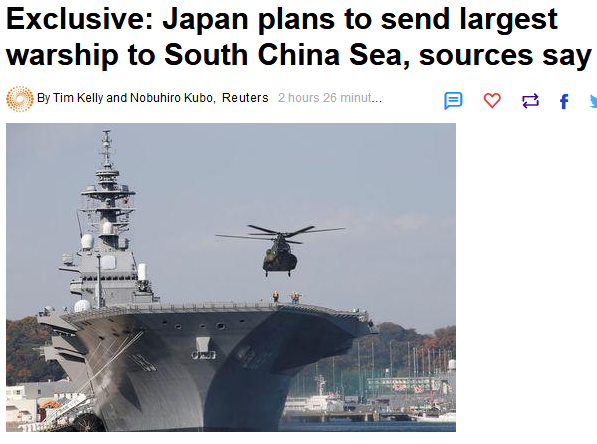 …From Yahoo News / Reuters. Here is an excerpt…
>>> Japan plans to dispatch its largest warship on a three-month tour through the South China Sea beginning in May, three sources said, in its biggest show of naval force in the region since World War Two…

"The aim is to test the capability of the Izumo by sending it out on an extended mission," said one of the sources who have knowledge of the plan. "It will train with the U.S. Navy in the South China Sea," he added, asking not to be identified because he is not authorized to talk to the media. <<<
If you recall, China has previously stated that joint US / Japan operations in its claimed "territorial waters" would be the red line for war. So if Japan's largest helicopter carrier starts sailing beside the US aircraft carrier that is already in the area, the USS Carl Vinson, political and/or military fireworks could ensue. And as I stated in Update 1, the globalists have scripted that any Chinese confrontation with Trump will end in humiliation for China and political death for Xi.
Speaking of Xi, his likely replacement, Li Keqiang, came out a week ago to publicly proclaim that Xi is the boss and the "core" of China's leadership, so any humiliation suffered in the South China Sea will fall squarely on his shoulders. This will open the path to Li's ascension to the top leadership position at the 19th National Congress of the Communist Party of China this autumn.
One question you might be asking yourself is…
Why would the globalists get rid of Xi?
It all started a couple of years ago when their "the benevolent BRICS and Putin will save us" narrative started falling apart. As more and more people began to see the BRICS and Putin as the controlled opposition mechanisms that they are, the alt-media propaganda corps began to circle their wagons around Putin in order to preserve his reputation as a supposed globalist fighter. Instead of portraying Putin in the laughably adulatory light they had been, faux-truthers like Alex Jones started saying this…
"OK, Putin's no angel, but at least he kicked the Rothschilds out of Russia and he's standing up to the New World Order. The ones you really need to watch are the communist Chinese…"
This statement would be followed by a long diatribe against the "globalist-controlled Chinese." And this technique of distracting negative attention away from Putin by pointing at the Chinese and Xi has turned Xi into something of a scapegoat. By getting rid of Xi, the Occulted Powers hope to remove the taint of globalism from the BRICS and Putin, leaving the public with these basic impressions…
"Communist China is a globalist-controlled monstrosity."
"There has been a change in China."
"China has a new leader (Li Keqiang) who is kinder, gentler, and more cooperative."
Just like the globalists are portraying a phony battle between the "neocon-neoliberal deep state led by Obama" and the "progressive deep state led by Trump" here in the US, they are portraying a phony battle between the "princeling faction of the Chicom party led by Xi" and the "Youth League faction of the Chicom party led by Li" in China. When all is said and done, Trump and Li's factions are scripted to win their battles.
So if the globalists choose to activate the South China Sea confrontation option, Xi is a goner. From the globalist perspective, he is just another expendable Chinaman, but Putin is the central figure of their NWO plans. If Xi has to go in order to carry the stink of globalism away from Putin, they consider it a small price to pay.
[Addendum – 2 April 2017]
China built its South China Sea bases for the United Nations
Behold the future UN Peacekeeper base on Fiery Cross Reef…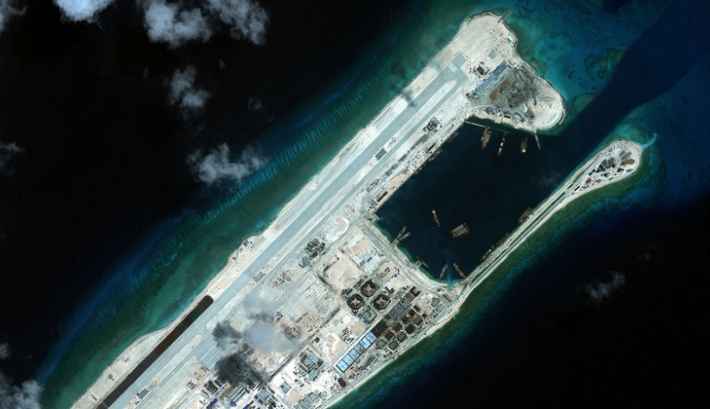 As I'm sure you've heard, China has built military bases atop manmade islands in the highly contested South China Sea. Ostensibly, they did it to enforce their supposed historical claims in the area, but the true purpose behind the construction was to provide the post-"reform" United Nations with bases of operation for their peacekeepers, fishery enforcers, and environmental police.
When the Chinese hand over the bases, though, they won't be left empty-handed. By claiming exclusive rights in the area and moving to enforce them, they have established themselves as a "claimant" and staked-out a strong bargaining position. In negotiations, it is standard practice to ask for way too much, then "compromise" your way back to what you really want. So once the newly-"reformed" UN rules on what each claimant will get, China will be left with assets in the area that they wouldn't have received if they hadn't barged in. Instead of owning nothing in the South China Sea, they'll own something, and something is better than nothing.
To understand why I say all this, let's have a look at the situation in the South China Sea…
> China's globalist-controlled communist government has made claims in the South China Sea that are deliberately ridiculous, outrageous and provocative…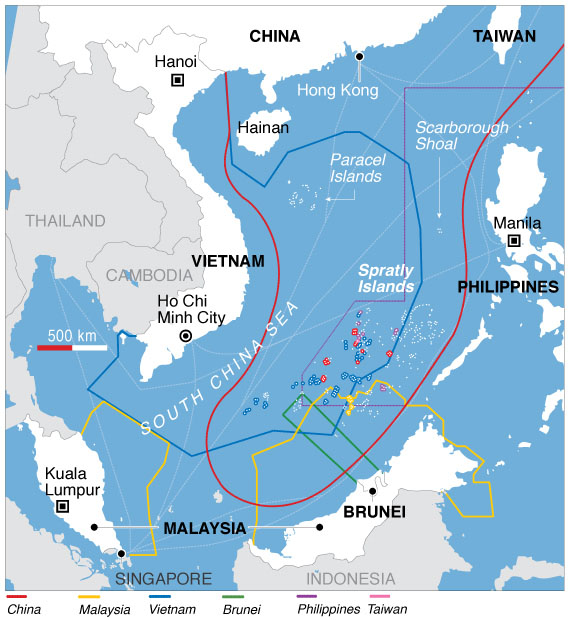 …Just look at how far their red-line region extends from China – and how close it cuts to their neighbors.
> This absurd overreach has led their aggrieved neighbors to begin groping for a regional grouping that can counterbalance Chinese expansionism…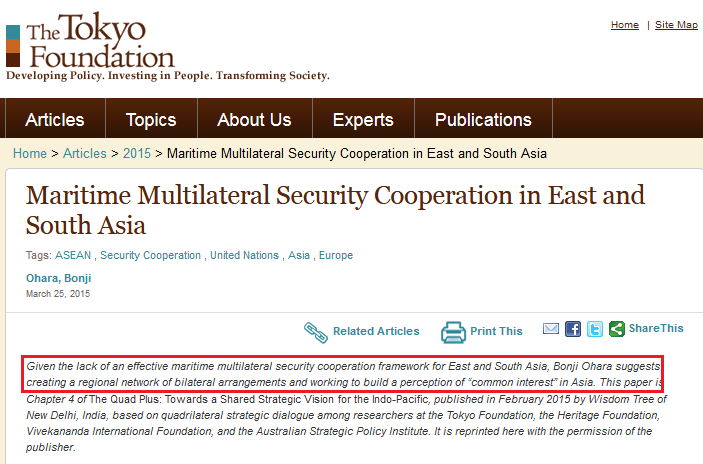 …From the Tokyo Foundation. Here is a notable passage…
"China prefers bilateral talks to multilateral talks for discussions of the dispute in South China Sea because it recognises that multilateral talks will result in it losing advantage over individual ASEAN countries. On the other hand, the problems it creates for multilateral security cooperation isolates China in international society."
In other words, "the individual ASEAN countries need to act multilaterally to take away China's advantage." And "China has to stop acting up or it will wind up an isolated backwater like it was before."
> The Chinese overreach has also set up aggressive nationalists in China for a fall. The Chinese will be chastened by their coming humiliation in the South China Sea, and strident nationalistic voices will lose face and fall out of favor. This, the globalists hope, will leave the Chinese "better multilateral citizens." Just have a look at the thinking behind this strategy…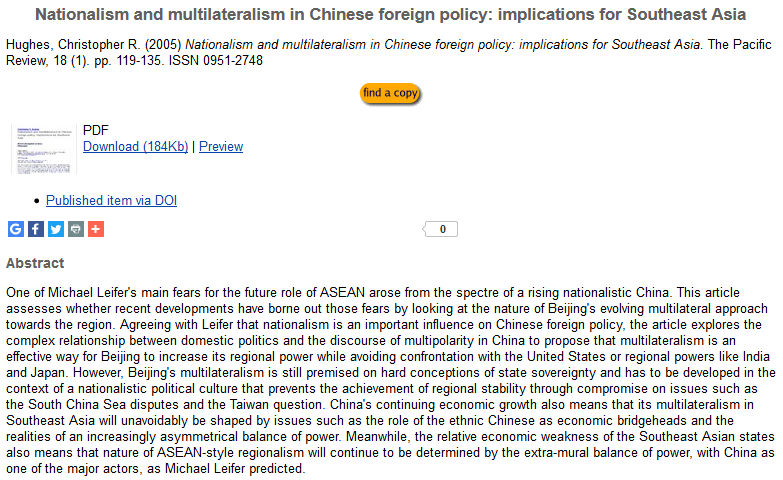 …From LSE Research Online
In case the insufferable "academic tone" of the abstract obscures its point, it's basically saying that Chinese nationalism is getting in the way of its multilateralism (and from the globalist perspective, that's a big no-no)…
"…multilateralism is an effective way for Beijing to increase its regional power while avoiding confrontation with the United States or regional powers like India and Japan. However, Beijing's multilateralism is still premised on hard conceptions of state sovereignty and has to be developed in the context of a nationalistic political culture that prevents the achievement of regional stability through compromise on issues such as the South China Sea disputes…"
With the three preceding bullet points in mind, you begin to see how the South China Sea scenario is scripted to play out…
1) Trump and Xi will blunder into a confrontation over the area.
2) China will be forced to compromise and retreat.
3) When they retreat from their bases, they'll have to hand them over to someone. Since they won't want to give the bases to their regional rivals or the United States, they'll hand them over to a "neutral party" that will enforce and secure their "legitimate" economic claims and security needs in the area: the "reformed" United Nations (NWO) that will rise after the conflict.
4) The UN NWO will use the bases to enforce the post-conflict compromise, patrol the fisheries to stop the conflict among fishing and coast guard vessels in the area, and take control of maritime environmental monitoring and management.
That being said, the Chinese won't be the only ones chastened by a South China Sea conflict. Although the clash would end in a victory or favorable draw for the US side, America would likely suffer a serious bloody nose. Considering all the media attention given to the nuclear threat supposedly posed by the North Koreans, this bloody nose could take the form of a nuke going off somewhere – either in a US territory or a US military base – but the most likely scenario is that the globalists will script the destruction of the USS Carl Vinson (either through conventional or nuclear means).
The aircraft carrier is the most potent symbol of America's ability to project power anywhere in the world. By having one sunk along with the 6,000 lives aboard, the globalists will shatter the American sense of invincibility, and the nation will thereafter be much more skittish about sending its carriers into other nations' backyards. This will result in BOTH China and America pulling back after the conflict, and that will open a power vacuum that a stronger United Nations can fill.
Also, the globalists could use the event to trigger their coup/counter-coup psyop with Trump. The psyop script calls for the supposed "neocon-neolib Deep State" to pounce on Trump and remove him from office through either impeachment, assassination, or suiciding. And if they use the conflict with China as cover for making their move, this is the argument they'll present…
"Trump has only been in office a few months, and he has already got us into a shooting war with nuclear-armed China and got an aircraft carrier sunk. We have to remove this bumbling lunatic before he destroys the nation!"
So a South China Sea conflict could end up taking out both Xi and Trump. This would be no surprise given that both are considered nationalists, and that both the Chinese and the Americans are known for their nationalistic fervor. Therefore it's not just Chinese nationalism that will take a hit if the two nations come to blows.
As is outlined in Update 1, Update 7, and this update, leaders who are "more reasonable, soft-spoken, civil, and cooperative" will take the place of the fallen nationalists, namely Li Keqiang and, after the counter-coup, Rand Paul…



…From Zero Hedge
Rand Paul will play Galba to Donald Trump's Vindex…
"Galba, acclaimed by the Senate, struck coins to commemorate Vindex, to whom he owed his position as emperor." – From Wikipedia
Now if we step back and take a bird's eye view of what the globalists are doing with China and the South China Sea, we see the strategy they hinted at back in 1961 at play…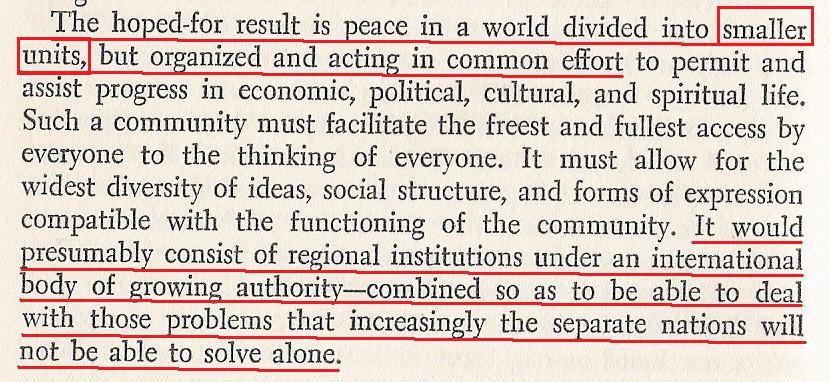 …From Prospect for America: The Rockefeller Reports, page 26
As the underlined passages suggest, they are using China's seizure of the South China Sea to create a problem "the separate [ASEAN] nations will not be able to solve alone." This pressures those nations to "organize and act in common effort" in a "regional institution" to preserve their national interests.
So let's make a list of all the ways the South China Sea conflict serves the globalist agenda…
1) It serves as one of the three conflict zones (along with Syria and Ukraine) through which they are fomenting a global war crisis that will give rise to its "logical solution": the "reformed" UN system (the multilateral / multipolar NWO).
2) It serves to push the ASEAN nations towards a multilateral approach to their (manufactured) common problem. As each aggrieved nation sees the futility of facing China on its own, they grope their way towards a regional security institution that can counterbalance Chinese aggression.
3) It serves as an object lesson to the Chinese and American peoples on the fruits of aggressive nationalism. Once their overreach in the South China Sea leads to their national humiliation, the Chinese will see the wisdom of working with others multilaterally rather than aggressively confronting them unilaterally. And once the Americans get shocked and bloodied by unilaterally poking their nose into a foreign conflict, they will be more inclined to fall back and stick with a multilateral diplomatic approach. This will make both peoples better citizens of the New World Order.
As for when the direct clash between the US and China could begin, we could see the first step in that direction next week when Trump meets Xi at the Mar-a-Lago resort on April 6-7…



…From CNN
If the meeting is portrayed as having gone south, a personal conflict between them could be narrated from there. And given that the Japanese will send their helicopter carrier into the South China Sea in May, a shooting war could be triggered any time from May onward.
Love always…
[Special Note 1 – 14-15 March 2017] – Do you think it's merely a coincidence that there was a big dust-up between Turkey and the Netherlands just four days before the Dutch election? Do you think it's also just a coincidence that Turkey threatened to unleash millions of refugees on Europe just two days before the election? Obviously, the globalists want to scare the Dutch into voting for their controlled opposition candidate, Wilders…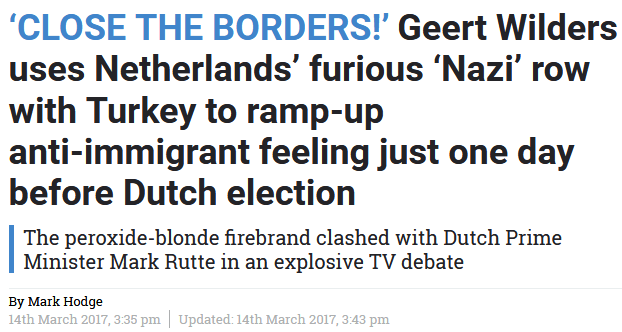 …From The Sun
If millions more refugees are on their way to Europe, to whom can Dutch voters turn to keep them out of the Netherlands? This orchestrated spat with Turkey serves to energize Wilders' base and anti-immigration independents while simultaneously making opposing voters less enthusiastic about showing up and voting against him.
And to put a finishing touch on their electioneering efforts, the globalist intelligence agencies put on their "Turkish hacker" masks and staged a propaganda assault on election day…


…From ZeroHedge
This was done to create further outrage among the Dutch and get the voters racing to the polls to elect Wilders.
Looking now to France, do you think it's merely a coincidence that Fillon was saddled with corruption charges, thus leaving Le Pen to square off against Macron, a former Rothschild banker, in the ultimate Anti-Establishment versus Establishment showdown? Again, the globalists are giving their controlled opposition candidate (Le Pen) a helping hand by eliminating a candidate that would have split her voting base.
Here is a beautiful example of another recent dust-up orchestrated to help Le Pen…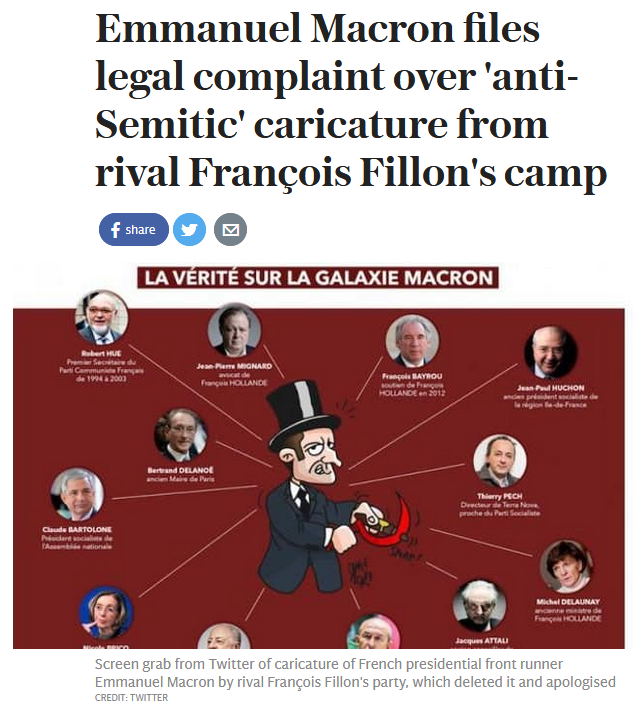 …From The Telegraph
This supposed "error in judgment" by Fillon's party serves two purposes…
1) It drives more voters away from him, and
2) It highlights Macron's Rothschild connection, which aids Le Pen.
Now if you look at Macron's policies…
He's confrontational with Russia
He's pro-immigrant
He's pro-EU
He's pro-climate change agenda
…you see that he is the "French Hillary" who is "leading in the polls" against the "French Trump," Le Pen. I suspect more Establishment outrages will surface before the French election to make its outcome mirror that of America's.
As I've mentioned many times before, the globalists are electing Putin-friendly leaders in Europe who will join with him in "reforming" the UN into the (real) New World Order.
[Special Note 2 – 15 March 2017] – Even with all the help he was given, including a revelation two days before the election that Prime Minister Rutte had conspired with Merkel to bring in the refugees, Wilders fell short in the election. Of course, none of the European elections really matter except those in France and the UK (which has yet to be scheduled), so this Dutch election was merely a "test of the Anti-Establishment mood in Europe." Given that the test showed much work left to be done, I'm expecting something really dramatic to happen before the French election to give Le Pen a boost. The globalists' objective is to install Putin-friendly leaders in all the P5 nations, and France and the UK are the only ones left to go.
If Le Pen falls short next month, both a UK snap election and UN reform won't likely happen this year, so a Macron victory won't bother me at all.
[Special Note 3 – 16 March 2017] – In tomorrow's update, I'll cover why Rand Paul is being reintroduced into the spotlight. And we'll see how the alt-media pedophilia propaganda meme will figure into clearing the way for his ascension to the presidency (if the globalists opt for the Vindex Falls scenario). So before tomorrow, you might want to read Update 5 to understand what the Vindex Falls scenario is, if you haven't read it already.