During this month, there will be a heightened probability that the long-awaited coup against Trump will begin in earnest. It will start with Congressional Democrats and Republicans uniting to take action against him after a triggering event, and the nature of that event will determine whether the coup is fast-moving or spills over into next year.
Triggers for a fast-moving coup include…
> Trump stopping the funding for Obamacare
> The start of the Erdogan/EU Holy War, which would lead to Trump aligning with Putin
And the most likely trigger for a slow-moving coup would be…
> Trump firing special counsel Robert Mueller
Look for Trump to take his fateful action sometime between today and the 17th, and look for Congress to respond between the 18th and 22nd (to take advantage of the Great American Eclipse). (Although Congress is in recess during August, they will return to Washington if the triggering event occurs.) Since the globalist script has cast Trump as the "Christian Good Guy," they don't want the Eclipse to be associated with something he does; they want it to be associated with something the "Satanist Bad Guys" do. They want the eclipse to be the "sign in the heavens" that foreshadows doom for America due to "the Satanists' Last Stand."
Just look at how the Christian propaganda media are portraying the Trump White House…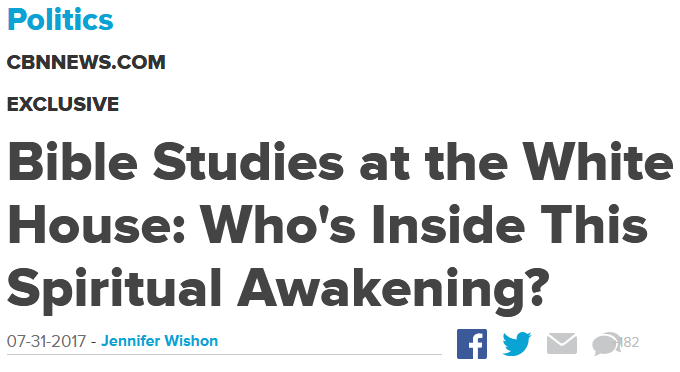 …From Christian Broadcasting Network News
Since I've been unable to finish the last two Globalist Agenda Watch entries, consider this short-and-sweet entry complete.
With love…