Keep your eyes on this sneaky little sh*t…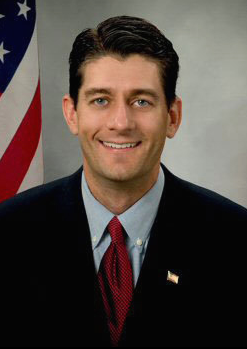 …His name is Paul Ryan, and he's the Speaker of the US House of Representatives. If the globalists put together a scenario that makes him the acting President sometime between now and January 20, that's a signal that the fake World War 3 is a go.
A lot of people are wondering when the globalists will pit their Western lackeys against their Eastern lackeys in direct military conflict. The short answer is that it could start at any time, and there are triggers in place that could kick it off this week. But what will happen if they continue to delay? How long can they stretch it out before they have to act? Let's take a moment to think it through…
In the US presidential election,
Hillary Clinton has been marketed as the "embodiment of the Establishment who is anti-Putin and likely to take us to war with Russia," and
Donald Trump has been marketed as the "anti-Establishment candidate who is conciliatory to Putin and unlikely to allow a pointless war."
That being the case, it is clear that the war must be prosecuted before President Trump takes office. This means that it must either take place by his January 20 inauguration, or his inauguration must be delayed long enough for the war to play out. And given Obama's seeming reluctance to let the war go forward, he'll have to replaced (or have his hand forced) either way. That being said, here are some candidate scenarios for how they could slip in a war between Obama's departure and Trump's inauguration…
Scenario 1 – Hillary wins the election, but damning communications are then leaked by WikiLeaks and other sources which show she and other top Democrats (including Obama and Biden) conspired to steal the election through physical and electronic voter fraud. By means of either impeachment or military action "in support of the Constitution," Hillary, Obama, and Biden are arrested and the Speaker of the House of Representatives, Paul Ryan, becomes the acting President. Since he's a good little globalist errand boy, he'll do as he's told and start the war.
Scenario 2 – Trump wins the election, but Hillary screams of Russian election tampering and Democrats use the December 9 budget trigger to shut down the government, thus leaving Obama to rule by executive order. Israel or a hawkish US military element then conducts a convincing false-flag against Russia to get the fighting started, leaving Obama little choice other than allowing the war or surrendering.
Scenario 3 – Nothing happens – no election hijinks and no war – and Trump is inaugurated on January 20, 2017. This is where the other trigger the globalists have installed would come into play. On March 15, 2017, the US runs into the debt limit again. Typically when this happens, the Treasury Department starts using "extraordinary measures" (accounting tricks and money shuffling) to keep the government going until the end of September.
Do you think Donald Trump will allow his Treasury Department to use "extraordinary measures" to get around the debt limit? Do you think he'll allow Congress to just kick the debt limit can down the road like they've been doing? It would seem unlikely; most likely, he'll get up on his hind legs and demand that Congress starts exercising fiscal responsibility "NOW." This would lead to a whole mess of trouble for the US government and US dollar, and it would provide a perfect opportunity for Russia and China to play the gold card (and for the IMF to advance its SDR as a more reliable reserve currency). This is another "peace path" to a BRICS victory.
Mind you, these are just the scenarios I could think of off the top of my head, and I may come up with more in the coming hours/days. But we could see any of them, or a combination of elements from all of them, if we hit November without a war.
Whatever happens, keep your eyes on Paul Ryan. Something stinks about him and the way he became Speaker of the House. If you look into his background, you'll see that he has a strong Catholic background (he is a Vatican agent), and he also has strong connections to the Mises Mafia I've so often written about. Not only that, he is anti-Putin…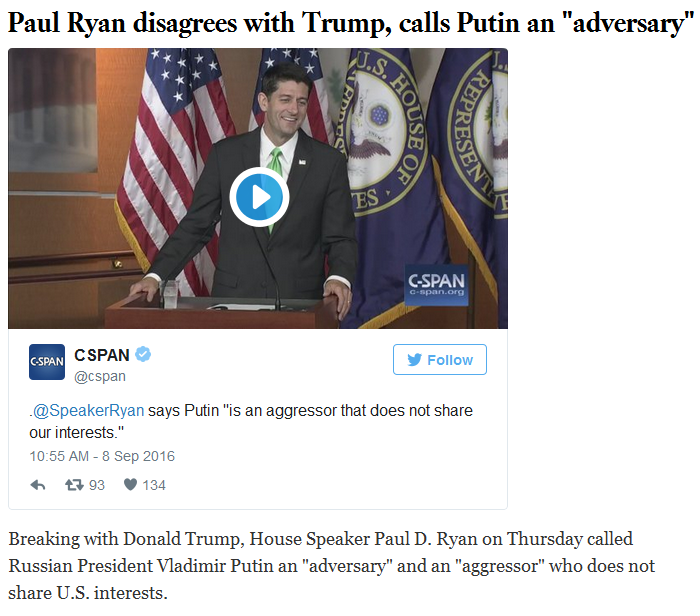 …From the Los Angeles Times
And he'll dutifully push any war buttons the globalists tell him to…
"Ryan was a 'reliable supporter of the [George W. Bush] administration's foreign policy priorities' who voted for the 2002 Iraq Resolution, authorizing the 2003 invasion of Iraq." – From Wikipedia
With love…